Sunday October 12, 2008

We have never had to cancel a trip due to weather over the last six years so I am somewhat taken aback when I get a call from Skipper Richard Ternullo on Friday morning saying he thinks we should cancel the Saturday, October 11 outing due to the wind forecast and small craft advisory. Richard has thirty plus years of experience on the Monterey Bay so when he makes a suggestion like this we pay attention. Fortunately we are able to move most of the Saturday people over to Sunday when the wind forecast looks a lot more favorable. We also decide to shorten the trip to 8 hours, as the winds look like they might be unfavorable offshore.

As it turns out the winds on Saturday morning aren't so bad as to keep the whale watch fleet in the harbor but they don't take any afternoon trips due to the wind and waves.

Pulling away from the Coast Guard jetty on Sunday morning we watch flocks of SURF SCOTERS pass by and are lucky to catch a glimpse of a pair of HARLEQUIN DUCKS on their way to the harbor.

Approaching Pt. Pinos we find a single immature PIGEON GUILLEMOT to the delight of the Europeans on board. They also enjoy the flight of PACIFIC LOONS and a few ELEGANT TERNS overhead.

Rounding Pt. Pinos we head west from Cypress Point. We have seen only a few SOOTY SHEARWATERS when Todd Easterla points out a MANX SHEARWATER. A little further west we come upon a great deal of shearwater activity and are surprised to find more PINK-FOOTED and BULLER'S SHEARWATERS than Sooties. They must have taken those strong northwest winds out of here. In this area we also find our first NORTHERN FULMARS and are paid a visit by a small pod of LONG-BEAKED COMMON DOLPHIN that ride the bow. Before day's end we will have PACIFIC WHITE-SIDED and NORTHERN RIGHT WHALE DOLPHINS do the same.

We are tempted to spend the morning parked here with all the activity but we continue our way westward. The seabird activity drops dramatically and the swell picks up along with the wind. I look back from the top drive to see chummer Tanner Easterla getting soaked at the stern. This is not fun and we aren't seeing much of anything so our new skipper Mike Johns and I decide to head back toward the bay rather than pound our way out offshore.

Richard was right about going offshore today. It ain't pretty.

BLACK-FOOTED ALBATROSS numbers seem up today in comparison to our last few trips. Alcids are few with COMMON MURRE, RHINOCEROS AUKLETS and a handful of CASSIN'S AUKLETS seen.

Around noon I go up to the top drive to eat my sandwich and just as I finish the last bite there is a commotion at the back of the boat. I hear the three most exciting words on a pelagic trip, "STOP THE BOAT."

I swing out of the top drive and land in the middle of the salon in three giant steps. I arrive at the back of the boat where everyone has their bins locked on something.

"What do you got?"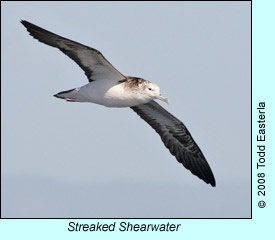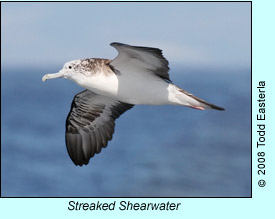 "STREAKED SHEARWATER at 8 o'clock."

The strange looking shearwater parallels the boat at nine up high enough so everyone can see. We watch the bird turn its head, bank away from us and streak away (sorry I couldn't resist).

Credit one of our regulars Kenneth Petersen and spotter Tim Amaral who were both watching our wake when the Streaked Shearwater appeared. Someone should always be looking astern!

Usually after lunch the nap attack comes on but not today. Everyone is engaged and excited. All the leaders are wondering how many more species of shearwater can we find today?

We watch pair of semi-friendly HUMPBACK WHALES rolling around in a kelp patty. The visibility is so good that we can make out the white of the long pectoral fins underwater.

We've been vigilant in scrutinizing the dark shearwaters that come in to our chum and finally our efforts are rewarded when Todd and I find a SHORT-TAILED SHEARWATER land briefly amongst the gulls in our wake.

Today we are Skua Slammed, which is to say we do not see a single jaeger or skua on the day. Where'd they all go?

On the way in Tim Amaral calls out a single BLACK-VENTED SHEARWATER from the bow for shearwater species number seven! A nice way to wrap up another great day on the Monterey Bay!


Also seen:

BROWN PELICAN
BRANDT'S CORMORANT
RUDDY TURNSTONE
BLACK TURNSTONE
RED PHALAROPE
RED-NECKED PHALAROPE
BONAPARTE'S GULL
HEERMANNS GULL
WESTERN GULL
CALIFORNIA GULL
"COMMIC" TERN

CALIFORNIA SEA LION
HARBOR SEAL SEA OTTER


For additional photos, see photo gallery for the October 12 seabird cruise (photos by Todd Easterla, processed by Jeff Poklen).

Roger Wolfe for Monterey Seabirds