Sunday October 26, 2008

As we round the Coast Guard jetty the fog contracts around us. We've got a small group of 14 aboard today comprised mainly of our regulars. They know the potential for vagrant seabirds at this time of year that's why they're here. Question is where is everyone else?

We were forced to cancel the offshore trip that was scheduled the day before, which was a pity with the weather so fine but only three people had signed on, not even close to making the minimum. Today we have barely enough birders on board to make a go of it.

The weather has changed dramatically overnight from a hot Indian summer with clear sunny skies to a dense fog that reaches down to the water.

The visibility may not be so good but the birding is! As we sputter along Cannery Row we find a single unseasonal PIGEON GUILLEMOT and soon after a single RED-THROATED LOON is found sitting on the water. We don't see them on our trips very often. Next is a to be expected COMMON LOON. We are tight into the shore but in the dense fog we can barely make it out.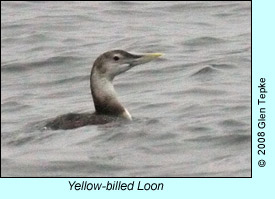 Todd Easterla calls out a single BLACK-VENTED SHEARWATER that is seen briefly before flying into the mist. Darn, I say to myself wishing we had seen it better. I'm up in the top drive and point out another loon on the water and before I can get my bins on it Todd is calling out the unexpected, "YELLOW-BILLED LOON!"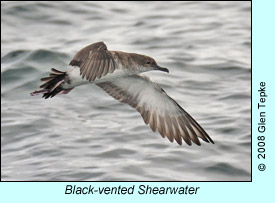 Our skipper Mike Johns maneuvers the Pt. Sur Clipper in an effort to get better views. We get a few photos before the juvenile loon dives and escapes our detection in the dense marine layer. As we draw nearer to Pt. Pinos a steady trickle of BLACK-VENTED SHEARWATERS stream by. By day's end Don Roberson estimates we saw 1,800 BVSH, the most seen on a pelagic trip since the El Niño years of 1984 and 1998.

Tim Amaral spots a pair of sea ducks in flight - WHITE-WINGED SCOTERS.

Passing the Point we find CASSIN'S AUKLETS virtually all over the place in tight little flocks. Today we see more of these little alcids than we have in quite some time. RHINOCEROS AUKLETS and COMMON MURRES are also abundant.

We head due west finding an occasional NORTHERN FULMAR, SOOTY and PINK-FOOTED SHEARWATER. PACIFIC LOONS fly by for our loon species number four.

Pushing offshore the bird activity ebbs but we do find our only BULLER'S SHEARWATER for the day. A few BONAPARTE'S GULLS land on the water for us as the fog lifts and visibility improves. Again today we find ELEGANT TERNS offshore.

Nine miles west of Pt. Pinos we spot some bird activity ahead and as we draw near I spot an interesting bird sitting on the water amidst the gulls. We have a running joke about Tim Amaral and his nemesis bird. Tim has just joined us on the top drive so I very casually ask if he's noticed the LAYSAN ALBATROSS up at our ten o'clock. He goes ballistic, so does everyone else when they hear me say over the PA, "and yes that is a Laysan Albatross sitting on the water at 10 o'clock even though Tim Amaral is on board."

This bird is very confiding. It approaches our stern quite closely thanks to our 11-year-old chumming cheerleaders Tayla Easterla and her friend Amelia. The bird gobbles up some popcorn and three large sardines. Check out my Laysan video at: http://www.motionbox.com/videos/ee9addbb161fe364

Not rare but indeed notable is a single second year RING-BILLED GULL that Todd spots when we are 10 miles offshore. That is a first.

Mike and I are wondering if we are going to see any large cetaceans. So far we've seen only DALL'S PORPOISE that uncharacteristically logged at the surface with a few calves but finally we come upon a pair of HUMPBACK WHALES. In the midst of these whales are flocks of Black-vented Shearwaters and in these flocks sitting on the water we find two cooperative SHORT-TAILED SHEARWATERS. The Humpbacks don't like being upstaged and come very close to the boat in an attempt to distract us.

As we approach the dock at day's end our cheerleading chummers chant P-O-P-C-O-R-N three times then Popcorn, Fish, Popcorn, Fish - Laysan Albatross!


Also seen:

EARED GREBE
BROWN PELICAN
SURF SCOTER
BLACK TURNSTONE
RED-NECKED PHALAROPE
HEERMANN'S GULL
HERRING GULL
WESTERN GULL

CALIFORNIA SEA LION
NORTHERN FUR SEAL
ELEPHANT SEAL
SEA OTTER


Roger Wolfe for Monterey Seabirds