Saturday September 27, 2008

Today we proved the axiom stated by Gary Melville at Oceanwings/Albatross Encounters of Kaikoura, New Zealand that, "Nothing stuffs it like the fog."

The marine layer was down to the water as we left the harbor and motored out to Pt. Pinos , visibility was a mere 100 feet. Miraculously we stumbled upon a single SABINE'S GULL that most were able to see briefly before it disappeared into the fog. This was beginning to resemble seabirding by Braille, as if it wasn't difficult enough already.

We picked up several SOOTY SHEARWATERS passing the boat and paused to make sure everyone was on our first PINK-FOOTED SHEARWATERS when a single BLACK-VENTED SHEARWATER appeared briefly in our midst or maybe I should say mist. In a short time we added some BULLER'S SHEARWATERS to our day's tally.

We reached the north rim of the Monterey Sea Canyon over Soquel Canyon and then on to near the coast north of Santa Cruz passing numerous COMMON MURRES and RHINOCEROS AUKLETS along the way.

The fog was getting to be oppressive, word on the radio indicated better visibility to the south so we headed that direction. This proved to be the way to go as an incredibly confiding FLESH-FOOTED SHEARWATER flew up to the stern and took a seat on the water. This delighted everyone on board, especially the photographers who now had some decent conditions to work with. This bird showed a lot of interest in us returning to fly around the boat several times.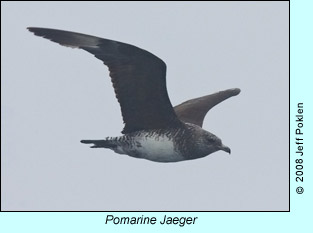 There was a special on SOUTH POLAR SKUAS with 10 seen on the day along with a nice showing of POMARINE JAEGERS in a variety of plumages.

PACIFIC LOONS put in a few brief appearances.

BLACK-FOOTED ALBATROSS numbers were down from our previous outings but we did manage several fulfilling encounters.

Our first HUMPBACK WHALE surprised us when it appeared like an apparition in the fog right off our bow. Both PACIFIC WHITE-SIDED and NORTHERN RIGHT WHALE DOLPHINS played around the boat and we also had nice looks at some RISSO'S DOLPHINS.

Both NORTHERN FUR and ELEPHANT SEALS were caught napping at the surface. A HARBOR SEAL off Cannery Row was our fourth species of pinniped.


Back in Monterey County Tim Amaral spotted 3 CASSIN'S AUKLETS sitting on the water and as we approached Pt. Pinos a pair of COMMON TERNS approached us.

Members of both Sac Audubon and the Santa Cruz Bird Club comprised most of our group and a fun group it was!

Also seen:

BROWN PELICAN
BRANDT'S CORMORANT
BLACK TURNSTONE
RED-NECKED PHALAROPE
HEERMANN'S GULL
WESTERN GULL
CALIFORNIA GULL

CALIFORNIA SEA LION
SEA OTTER

MOLA MOLA/OCEAN SUNFISH
BLUE SHARK


For additional photos, see Jeff Poklen's photo gallery for the September 27 seabird cruise.

Roger Wolfe for Monterey Seabirds