Sunday September 21, 2008

Part two of the Tucson Audubon group charter had every intention of going offshore this morning but the wind had other plans for us. We tried to push westward but we were forced northward into the lee of the Santa Cruz Mountains for a less bumpy ride.

Today we had a nice showing of jaegers with a dozen POMARINES, a few PARASITICS and a few Jaeger sp. SOUTH POLAR SKUAS put in a couple of brief performances but no Long-taileds to speak of.

Three PACIFIC LOONS were believed to be early migrants.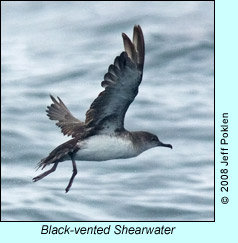 We saw all the expected shearwaters: SOOTY, PINK-FOOTED and BULLER'S but 3 BLACK-VENTED SHEARWATERS were a pleasant surprise in Santa Cruz County waters. One of them proved to be a molty white-vented BVSH upon review of photos.

We passed near the area where we had seen storm-petrels two days prior but not a single storm-petrel species was observed on the day. Their presence in the bay seems to be very transitory.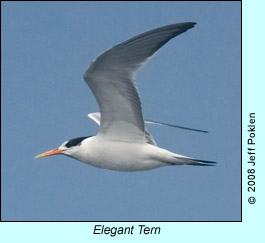 All the terns seen were ELEGANT.

Alcid wise we had COMMON MURRES and RHINOCEROS AUKLETS. A single immature PIGEON GUILLEMOT at the end of the trip was a bonus. We had not seen any in weeks.

RED-NECKED PHALAROPES were seen mostly in close to shore.

WESTERN, CALIFORNIA and HEERMANN'S GULLS followed us throughout the day and attracted a few BLACK-FOOTED ALBATROSS in to the boat. No Sabine's today.

We all enjoyed an amazing HUMPBACK WHALE show with a breaching pair that also performed a vertical lunge feed next to us. Wow! At one point we found a concentration of Humpbacks that was comprised of a dozen. A single MINKE WHALE put in a typical non-performance with a brief appearance at the front of the boat.

PACIFIC WHITE-SIDED DOLPHINS and NORTHERN RIGHT WHALE DOLPHINS came in to ride the bow. RISSO'S DOLPHINS largely ignored us and DALL'S PORPOISE were less than forthcoming.

A few NORTHERN FUR SEALS were seen lazing at the surface and we had the expected MOLA MOLA/OCEAN SUNFISH and a brief encounter with a good sized BLUE SHARK.

Also seen:
BROWN PELICAN
BRANDT'S CORMORANT
BLACK TURNSTONE

CALIFORNIA SEA LION
SEA OTTER


For additional photos, see Jeff Poklen's photo gallery for the September 19 and 21 seabird cruises.

Roger Wolfe for Monterey Seabirds