Friday September 19, 2008

Today's charter with the Tucson Audubon Society got off to a rollicking start. Just as we were about to turn right at Pt. Pinos towards the north end of the bay a single MANX SHEARWATER flew across our bow. The bird did not stick around yet still some on board managed to get photos.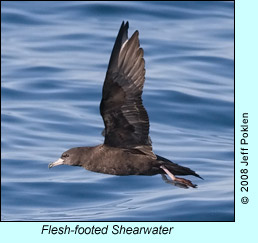 Within minutes we slowed to sort through a flock of shearwaters, Sooty, Sooty, Sooty, Pink-footed, Sooty and what's this with the bicolored bill? FLESH-FOOTED SHEARWATER! This bird was very confiding, allowing us to approach so that everyone on board got great looks and photographs.

I tried to impart to the group their great fortune is seeing these two uncommon seabirds right off the bat but they were just as content seeing regular birds like RHINOCEROS AUKLETS and COMMON MURRES and the flyby PACIFIC LOON.

Our Tucson friends had timed their trip to coincide with some of the nicest weather we've had in recent weeks without a hint of fog and virtually no swell. Greasy calm in the morning.

Given these favorable conditions we opted to try for the storm-petrel flocks. Along the way we added POMARINE and PARASITIC JAEGERS to our trip list along with a few BLACK-FOOTED ALBATROSS.

Arriving at the area where the storm-petrels were seen the prior weekend we were somewhat perplexed by their absence. We then continued northbound thinking they had perhaps moved and did begin to see the occasional ASHY STORM-PETREL. Soon we reached the point where we needed to begin heading back toward Monterey so we took a left turn. As we moved farther from the coastline we began seeing more and more storm-petrel until finally we located some restless flocks due west of Davenport (that cement plant really sticks out).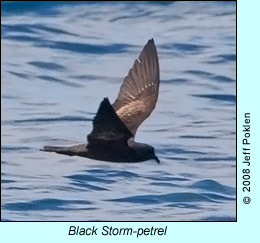 We were able to point out BLACK-STORM PETRELS amongst the Ashies and estimated their numbers had increased from what we had seen the week prior. A single FORK-TAILED STORM-PETREL was also found in the flocks.

Alas, the time to head for the dock comes too soon but not before we add a SOUTH POLAR SKUA found sitting on the water trying to look like an innocent gull.

Our desert birders also were pleased to see 4 species of pinnipeds -- ELEPHANT, HARBOR and NORTHERN FUR SEAL along with the expected CALIFORNIA SEA LIONS.

As for cetaceans we had several encounters with HUMPBACK WHALES , PACIFIC WHITE-SIDED DOLPHINS and DALL'S PORPOISES.

Also seen:

BROWN PELICAN
BRANDT'S CORMORANT
BLACK TURNSTONE
RED-NECKED PHALAROPE
HEERMANN'S GULL
WESTERN GULL
CALIFORNIA GULL
ELEGANT TERN


For additional photos, see Jeff Poklen's photo gallery for the September 19 and 21 seabird cruises.

Roger Wolfe for Monterey Seabirds