Sunday September 14, 2008

Dawn finds us a few miles west of Pt. Pinos working our way offshore with a group of birders from New York City and a trio from Estonia on board. In the early gray light we sight our first SOOTY and PINK-FOOTED SHEARWATERS. Conditions would be best described as "greasy" calm with virtually no wind to stir the seas.

A single PACIFIC LOON is an exciting find for our east coast friends as are the ELEGANT TERNS and RHINOCEROS AUKLETS.

My nephew Kevin keeps the flow of popcorn and sardines going off the stern to entice the gull flock to follow us in turn attracting other seabirds like the dozen or so BLACK-FOOTED ALBATROSSES, SOUTH POLAR SKUAS, POMARINE and PARASITIC JAEGERS that fly in to see what the excitement is all about. A mixed flock of shearwaters sitting on the water has a small group of SABINE'S GULLS in their midst.

At 150 miles out the albacore grounds are well out of reach today so we head for the underwater geologic feature known as Sur Ridge and then work beyond it until we are just over forty miles offshore. Along an area of convergent water we find flocks of both RED-NECKED and RED PHALAROPES.

Well offshore we pass through an area with many little flocks of CASSIN'S AUKLETS present. In this same area we come upon several NORTHERN FUR SEALS napping at the surface in their diagnostic jug handle position.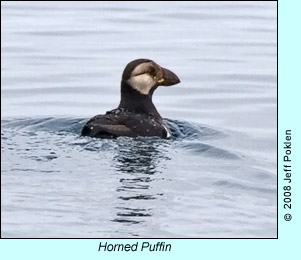 We take a right turn and a northern heading towards the 1500 fathom spot and find a single HORNED PUFFIN sitting on the water. We come about and pull alongside this handsome alcid and the photographers get some full frame shots. Perhaps now we will sell out of our Monterey Seabirds 2007 Year of the Horned Puffin commemorative T-shirts.

A trio of COMMON TERNS fly over the boat to see what the gulls are after and a while later our only ARCTIC TERN seen this season flies directly over our boat so that it's translucent secondaries are easily observed. We've been wondering where they were.

ASHY STORM-PETRELS flutter by in the distance but never allow us to approach very close.

Up at the front of the boat spotter Tim Amaral points out a single MANX SHEARWATER, which is more exciting for us west coasters than our visitors from the east.


Two tiny black and white alcids surface beside the boat and we enjoy getting up close and personal with a pair of XANTUS'S MURRELETS – another splendid photo opportunity.

Two separate BROWN-HEADED COWBIRDS fly in to check out the Coyote Bush we have mounted atop the top drive as a sanctuary for any passerines that may have lost their bearings in the high marine layer. The high fog creates ideal viewing conditions without any significant glare on the water.

Tim spots a tight flock of shearwaters fly in and land on the water behind us so we circle back to discover 75 BULLER'S SHEARWATERS with a half dozen PINK-FOOTED SHEARWATERS mixed in. The birds take flight and bank and turn synchronously. We often marvel at the flight of a single Buller's but 75 flying in unison is visual poetry. A Skua comes in to harass the flock yet still they fly with beauty and grace even as the bully pursues them.

A pod of PACIFIC WHITE-SIDED DOLPHINS approaches and rides the bow.

At the 11th hour, as we approach Pt. Pinos, as second MANX SHEARWATER is called out for two on the day and the COMMON MURRES of which we've seen a few become well, common.

At the end of our long journey we are welcomed back to the harbor by the mother/calf pair of out of place LONG-BEAKED COMMON DOLPHINS.

Also seen:

BROWN PELICAN
BRANDT'S CORMORANT
BLACK TURNSTONE
HEERMANN'S GULL
WESTERN GULL
CALIFORNIA GULL

HUMPBACK WHALES
CALIFORNIA SEA LION
SEA OTTER


For additional photos, see Jeff Poklen's photo gallery for the September 13 and 14 seabird cruises.

Roger Wolfe for Monterey Seabirds