Saturday September 13, 2008

In that today's trip was a sanctioned Santa Cruz Bird Club Big Year Field trip we got the hell out of Monterey County as fast as possible. A single MINKE WHALE and a pair of HUMPBACK WHALES held up our progress and we did stop for a few interesting sightings but eventually we crossed over the county line just before finding our first of two FLESH-FOOTED SHEARWATERS.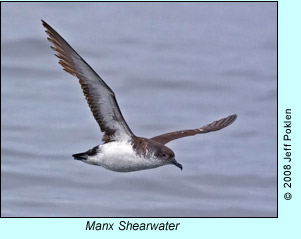 SOOTY SHEARWATERS were ubiquitous. PINK-FOOTED SHEARWATERS were numerous and the BULLER'S SHEARWATERS plentiful. A single MANX SHEARWATER spotted by Todd Easterla off the north coast of Santa Cruz County was the highlight for some of our participants and the photographers had a field day with this very cooperative individual that flew around us and landed right next to the boat.

A few RED PHALAROPES were found in amongst the little flocks of RED-NECKED PHALAROPES.

We enjoyed nearly a dozen cooperative SOUTH POLAR SKUAS along with several PARASITIC and POMARINE JAEGERS but no Long-taileds for the day.


After working the waters close to shore we circled back on a southwestern heading until we arrived at Cabrillo Canyon and came upon the storm-petrel flocks. ASHY STORM-PETRELS in the thousands were seen in flight and on the water. We tallied 10 BLACK STORM-PETRELS and a single WILSON'S to contribute to the Santa Cruz Bird Club Big Year.

Speaking of the bird club, we found many of the newsletter mascot – BLACK-FOOTED ALBATROSS along with flocks of SABINE'S GULL. A single XANTUS'S MURRELET flew by the boat on our way back towards Monterey County where we saw our only NORTHERN FULMAR on the day.

ELEGANT TERNS trickled by throughout the day but once again we found zero Common or Arctic Terns, which is getting to seem a bit odd.

Both COMMON MURRE and RHINOCEROS AUKLET were the only other alcids seen.

In addition to the above mentioned cetaceans we saw a couple of NORTHERN RIGHT WHALE DOLPHINS mixed in with many PACIFIC WHITE-SIDED DOLPHINS, and the mother/calf pair of LONG-BEAKED COMMON DOLPHINS that are still hanging out near the Coast Guard jetty greeted us as we ventured out of the harbor. DALL'S PORPOISES were also seen.

We did quite well with pinnipeds, in addition to the expected CALIFORNIA SEA LIONS we saw NORTHERN FUR , ELEPHANT and HARBOR SEALS.

Also seen:

BROWN PELICAN
BLACK TURNSTONE
RUDDY TURNSTONE
HEERMANN'S GULL
CALIFORNIA GULL

SEA OTTER


For additional photos, see Jeff Poklen's photo gallery for the September 13 and 14 seabird cruises.

Roger Wolfe for Monterey Seabirds