Saturday September 6, 2008

September is often the nicest time of the year in the Monterey Bay area. The tourists have fled and the oppressive summer fog releases its tight grip on the coast. Our Sept. 6 outing was arguably one of our nicest in terms of weather. All 16 on board enjoyed bright, sunny skies with little wind to contend with.

We headed out of the harbor and directly toward the south rim of the Monterey Sea Canyon. Reports on the radio were of "Tuxedos" as some of the local captains like to refer to Killer Whales/Orcas. There was considerable excitement two days earlier when a pod of Transient type Orcas were observed stalking, drowning and subsequently eating a Minke Whale in the bay. This is the first time this predator/prey interaction was documented in these waters.

Alas the report proved to be unfounded when we arrived near the area of the report and came upon a pod of RISSO'S DOLPHINS. This is a common misidentification with local fisherman. En route we came upon many small flocks of SOOTY SHEARWATERS sitting on the water.

We traveled along the south rim of the Monterey Sea Canyon on a southwest heading, sifting through dozens of shearwater flocks on the water and started finding some PINK-FOOTED SHEARWATERS in the mix and eventually some BULLER'S SHEARWATERS as well.

We came upon one flock that we assumed were more Sooties but closer inspection revealed these were all BLACK-FOOTED ALBATROSS! Apparently they had just been abandoned by a fishing vessel bringing in its catch, thus the congregation. Many of them appeared to be older individuals with very pale napes.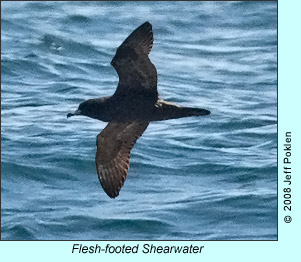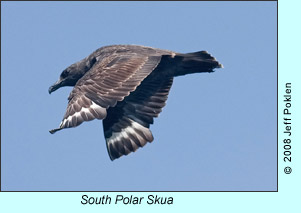 We had a special on FLESH-FOOTED SHEARWATERS with 5 seen on the day, a few of which approached the boat to the delight of the photographers on board, who had plenty of room to pan today. The Fleshies were nearly upstaged by a great showing of SOUTH POLAR SKUAS. There were 5 flying around the stern at one time, thanks to the diligent chumming by my nephew Kevin.

1 LONG-TAILED, 1 PARASITIC and a few POMARINE JAEGERS for a "skua slam".

We saw few SABINE'S GULLS. Terns were even sparser. A single FORSTERS was spotted early on and the occasional ELEGANT passed overhead. On the way in we finally had 3 COMMON TERNS zip by. No Arctics, where are they?

In the alcid department we enjoyed nice looks at RHINOCEROS AUKLETS and COMMON MURRES but the 3 CASSIN'S AUKLETS were pretty uncooperative. With calm seas and warmer sea surface temperatures in the low 60s we were hopeful for some murrelet action but none were found.

In the afternoon the winds picked up from the northwest as we pushed offshore nearly 20 miles southwest of Pt. Pinos to the 1500 fathom spot where we laid a fish oil slick and chummed. We sat on it for a good half hour but attracted nothing new. We did see several ASHY STORM-PETRELS here and there throughout the day but did not see any other storm-petrel sp.

Bob Flood from the Isles of Scilly is on board today recounting for us his pelagic experiences this past year. The sinking of the M/S Explorer near Antarctica (See www.youtube.com/watch?v=a1cDBsLZNAg ) and the 5-week voyage of the Pacific Ocean Odyssey. It is always fun having Storm-petrel Bob on board.

As to cetaceans: the mother and calf pair of LONG-BEAKED COMMON DOLPHINS greet vessels as they leave the harbor. We were no exception. We also enjoyed seeing HUMPBACK WHALES, PACIFIC WHITE-SIDED and NORTHERN RIGHT WHALE DOLPHINS and a few DALL'S PORPOISES.

Also seen:

BROWN PELICAN
BRANDT'S CORMORANT
BLACK TURNSTONE
RED-NECKED PHALAROPE
WESTERN GULL
CALIFORNIA GULL

CALIFORNIA SEA LION
HARBOR SEAL
CALIFORNIA SEA OTTER


For additional photos, see Jeff Poklen's photo gallery for the September 6 seabird cruise.

Roger Wolfe for Monterey Seabirds