Sunday August 24, 2008

I never cease to be amazed out how changeable the ocean is. Rarely are conditions the same from day to day or even hour to hour. The American flag near the end of Fisherman's Wharf hangs from its pole as if dead.

Outside the jetty we point out young PIGEON GUILLEMOTS and further along the first COMMON MURRES. As we approach Pt. Pinos the current is ripping along under us at a knot and a half making conditions a bit on the bumpy side. Turning the corner a small, dark silhouette passes us at about the same height as those of us standing at the stern. The BLACK TERN gets recognition before it disappears into our wake.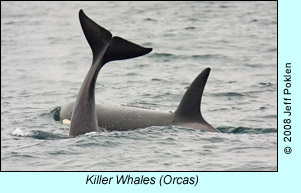 On a southward heading we come across a few RED-NECKED PHALAROPES and Don Roberson spots a single RED PHALAROPE. Just outside Whaler's Cove in Pt. Lobos State Reserve we are able to confirm and document the presence of 4 ORCA/KILLER WHALES. We find ourselves in a place of natural beauty that would rival any on the planet. Looking down into Carmel Valley we can see the sunlight shining on the hills. It looks to be right out of a Steinbeck novel; Pastures of Heaven to those of us shivering in the cool fog. Point Lobos is shrouded in mist looking like a Chinese painting.

The Orcas have been active the last two days. The previous day they were always too far away to see so today it is a pleasure to spend some time with them. Others are being reported over the radio near Pajaro Canyon. An aura of mystery surrounds these Orcas and their use of the submarine canyons to their bioacoustic advantage whilst hunting CALIFORNIA SEA LIONS that we observe porpoising out of the area in a big hurry.

As we leave Carmel Bay our first BLACK-FOOTED ALBATROSS of the day approaches the boat closely followed by PINK-FOOTED and BULLER'S SHEARWATERS. As the birding picks up so does the wind and before we know it we are dealing with some chop. The weather is not going to be so cooperative today.


A POMARINE JAEGER cruises by and we watch a PARASITIC shadow ELEGANT TERNS.

A rumor has gone around that RHINOCEROS AUKLETS should now be called puffins so we try that on. It comes off the tongue surprisingly easily. We later learn that this is premature but it was fun for a day.

A small flock of sterna terns gets the best of us as they zip by and we must accept them as "Commics". (ARCTIC or COMMON?)

SABINE'S GULLS put in appearances now and then but not in the same numbers as yesterday.

A call of "white albatross" goes out but only a couple of our passengers see it flying away behind a Black-footed. We lay down some fish oil and chum but unlike yesterday it fails to approach us for confirmation by our leaders. It is most likely the Laysan that seems to be hanging out for the last few weeks.

RISSO'S DOLPHINS are seen logging at the surface lazily but you can't say that about the DALL'S PORPOISE that go screaming by and ride our bow.

A single CASSIN'S AUKLET is difficult to see as it crosses our wake and a couple of ratty looking NORTHERN FULMARS parallel the boat. Two NORTHERN FUR SEALS laze at the surface as does a single ELEPHANT SEAL.

Crossing over the Monterey Sea Canyon we see a great deal of activity ahead of us. One or two HUMPBACK WHALES breach repeatedly near the horizon and we see clouds of birds flying around them.

We pass dozens of SOOTY SHEARWATER flocks sitting on the water. Dan Singer is at the front of the boat and spots a single MANX SHEARWATER amongst them but it flies away before we can all get on it.

As we arrive at the area alive with seabirds and feeding Humpbacks and feel as if we are now in a David Attenborough special. Humpback blows all around us. Three are right next to the boat and the trumpet blow by one of them startles us.

Proceeding along, a single ASHY STORM-PETREL flies by largely unnoticed in the midst of all the action.

Before we know we are back at the dock where we are welcomed home by a dozen young BROWN PELICANS begging at the fish cleaning station.


Also seen:
COMMON LOON
BLACK TURNSTONE
HEERMANN'S GULL
CALIFORNIA GULL
WESTERN GULL

HARBOR SEAL
SEA OTTER

.
For additional photos, see Jeff Poklen's photo gallery for the August 23 and August 24 trips.

Roger Wolfe for Monterey Seabirds