Sunday May 18, 2008

Back in December while visiting Kaikoura, New Zealand I met up with skipper Gary Melville of Albatross Encounters. The morning was drizzly with dense fog as we drove to the boat ramp. As he switched on the windshield wipers he turned to me and said, "Nothing stuffs it like the fog."

Alas our May 18 outing had to contend with similar weather conditions. Gary was right. After two days of bright sunny weather with some record setting highs the marine layer came in to cool things off. Wind can put a damper on birding at sea but the seabirds themselves thrive on it. Dense fog puts a damper on visibility for both seabirds and seabirders. We made the most of it.

A strong pulse of migrant PACIFIC LOONS was still evident but the fallout of RED and RED-NECKED PHALAROPES that occurred the prior weekend had abated, we had only a few sightings.

BLACK-FOOTED ALBATROSS numbers were up with 25 sitting at the back of the boat at one time. We were able to see the colored bands on some individuals as they took flight.

COMMON MURRES were the most numerous alcid. We saw only a few RHINOCEROS and CASSIN'S AUKLETS. There were nesting PIGEON GUILLEMOTS on the underside of the wharf next to our dock and along Cannery Row.

Shearwaters came only in two flavors: PINK-FOOTED and molty looking SOOTIES.

We totaled 6 gull species with a pair of SABINE'S GULLS the highlight. The foggy conditions did create nice viewing conditions for COMMON TERNS that approached the boat low on the water so that we could easily view them dorsally for a change. There was nothing "Commic" about them when seen from above.

I made the biggest mistake to date when I called out Killer Whales. I thought I was seeing tall dorsal fins along the edge of the fog. These turned out to be BROWN PELICANS sitting on the water!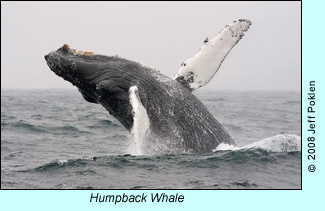 We saw both DALL'S PORPOISE and PACIFIC WHITE-SIDED DOLPHINS up close but the real show stealer was the trio of HUMPBACK WHALES that put on an incredible show right next to our boat. We saw them at the end of the trip just outside Pt. Pinos. Don Roberson, who has 30 years of pelagic birding in Monterey Bay under his belt was so impressed with the Humpbacks that he put together a web page with photos devoted to this trio of breaching, chin and pec slapping Humpbacks. Check it out at: http://montereybay.com/creagrus/MtyBay18May08.html

Also seen:

COMMON LOON
PELAGIC CORMORANT
BRANDT'S CORMORANT
SURF SCOTER
HEERMANN'S GULL
BONAPARTE'S GULL
CALIFORNIA GULL
WESTERN GULL
GLAUCOUS-WINGED GULL
CASPIAN TERN

CALIFORNIA SEA LION
HARBOR SEAL
NORTHERN FUR SEAL
SEA OTTER

For additional photos, see Jeff Poklen's photo gallery for this trip.

Roger Wolfe for Monterey Seabirds