Sunday April 20, 2008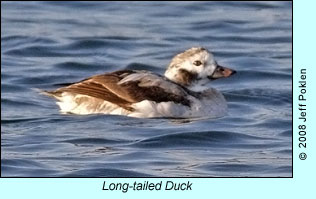 Before we've even left the harbor we are finding some interesting birds. Among the moored boats in the harbor we find 2 pairs of HARLEQUIN DUCKS and a single wintering LONG-TAILED DUCK mixed in with some to be expected SURF SCOTERS. Rounding the Coast Guard jetty we find a single HEERMAN'S GULL and 4 BLACK TURNSTONES on the riprap below the nesting and copulating BRANDT'S CORMORANTS. We also find a COMMON LOON and EARED GREBE.

On the outside of the jetty there are several RED-NECKED PHALAROPES and a single RED PHALAROPE that were likely blown in by the gale the day before. Heading along Cannery Row we add PELAGIC CORMORANT, PIGEON GUILLEMOT and COMMON MURRE to the day's sightings. Just past Otter Point there is a RED-NECKED GREBE in close to the rocky shore.

Approaching Pt. Pinos we make a hard right turn out to where a dozen HUMPBACK WHALES are being reported. Soon we are in their midst with blows sighted all around our boat. After spending a short while with the cetaceans we head towards the Monterey Submarine Canyon and see the first of hundreds of PACIFIC LOONS go streaming by. As we draw near the south rim of the canyon we also start seeing numerous SOOTY SHEARWATERS.

Crossing over the canyon we travel along the north rim to the Soquel Canyon where we see our first BLACK-FOOTED ALBATROSS. We take a northern heading up to Cabrillo Canyon but see few birds with the exception of Sooties and Common Murres.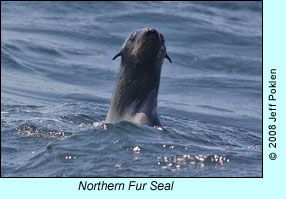 On our return route to the bay we find many small flocks of BONAPARTE'S GULLS and RED-NECKED PHALAROPES along with the occasional RED PHALAROPE mixed in. Finally we find some RHINOCEROS AUKLETS but only catch glimpses of 2 uncooperative CASSIN'S AUKLETS. We also find several NORTHERN FUR SEALS napping in drifting kelp patties.

As the day grows longer the wind increases in intensity but thankfully it is at our backs as we head back into the bay but not before we add a single SABINE'S GULL and PINK-FOOTED SHEARWATER to the day's tally.

Also seen:

WESTERN GULL
HERRING GULL
GLAUCOUS-WINGED GULL
CASPIAN TERN

CALIFORNIA SEA LION
HARBOR SEAL
SEA OTTER

For additional photos, see Jeff Poklen's photo gallery for this trip.

Roger Wolfe for Monterey Seabirds