Sunday August 10, 2008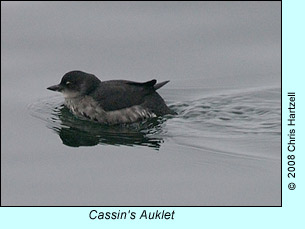 I've written more than sixty of these trip reports for Monterey Seabirds and what I'm continually struck by is how unique each trip is. Nothing is ever the same, whether it be the composition of the group or the experiences with seabirds and marine mammals. Each trip has a character all its own and every time I venture out on the bay it's a new experience in some way. Every time I see something I've not seen before.

Our August 10 trip began in its own unique way. As we cruise the Coast Guard jetty and round the corner our group of 22 comes upon an incredibly confiding CASSIN'S AUKLET that allows our boat to approach quite close. We can see the white arcs above the eye and even catch glimpses of its blue feet! This is a special treat for the photographers on board. This small alcid is usually quite boat shy.

After everyone has had the best looks ever at the Cassin's we continue on our way when two dolphins approach us and oddly enough it is a mother/calf pair of LONG-BEAKED COMMON DOLPHINS.

We then make sure everyone on board gets to see some PIGEON GUILLEMOTS and COMMON MURRE father/chick pairs put in their first of many noisy appearances.

Moving past Pt. Pinos SOOTY SHEARWATERS appear through the dense morning fog and beckon us to follow them into the Pacific. We round the corner and head west of Cypress Point where we see a lot of bird activity which is the result of a lot of dolphin activity. A very large mixed pod of dolphins are well spread out with some riding our bow or that of the two HUMPBACK WHALES we also find in this vicinity.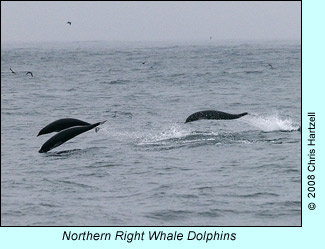 Birders up on the bow have the opportunity to look straight down into the blowholes of PACIFIC WHITE-SIDED DOLPHINS while the NORTHERN RIGHT WHALE DOLPHINS spurt out of the waters around us like greased slugs squeezed from a fist. See my dolphin and porpoise video at: http://www.motionbox.com/videos/0699dfb41c1be58f (requires Adobe Flash Player 9 or higher).

We sort through the birds for some time before finally finding our first PINK-FOOTED SHEARWATER on the day but we will rack up more than two dozen before day's end. We also come upon the occasional RHINOCEROS AUKLET and a few RED-NECKED PHALAROPES. BLACK-FOOTED ALBATROSS are numerous but we fail to turn up the Laysan Albatross reported on the whale watch the previous day.

Skipper Richard Ternullo comments on all of the ELEGANT TERNS we are finding throughout the day. Even as we get well offshore they keep streaming by. This is out of the norm. You would expect we would be seeing many jaegers but this is not the case with only a few POMARINE JAEGERS seen and even fewer PARASITICS observed.

From Cypress Point we head northwest toward Cabrillo Canyon. Just after crossing the line into Santa Cruz County we find our first of the season BULLER'S SHEARWATER. Just when the excitement has begun to subside a storm-petrel takes flight on the right side of the boat and it turns out to be a dark-rumped LEACH'S STORM-PETREL.

Rooster tails approach the boat like invisible jet skis – DALL'S PORPOISES come in to ride our bow for the next five miles, giving us an opportunity to learn how to differentiate the sexes. A NORTHERN FUR SEAL lazes at the surface in the classic jug handle position. A total of seven SABINE'S GULLS are seen.

A call to stop the boat is for a leucistic COMMON MURRE.

We make the obligatory Mola Mola stop for a large Ocean Sunfish up close to the boat and a BLUE SHARK lurks by.

We have seen a few RISSO'S DOLPHINS here and there but on the way back in there appear to be hundreds spread out in the bay.

My friend Cecille has come along today. She has suffered from chronic seasickness in the past but she follows the regimen of Mark Eaton's guide to Surviving a Pelagic Trip (and actually enjoying it) and feels fine throughout the trip.


Also seen:

BROWN PELICAN
BRANDT'S CORMORANT
BLACK TURNSTONE
HEERMANN'S GULL
CALIFORNIA GULL
HERRING GULL
WESTERN GULL

HARBOR SEAL
CALIFORNIA SEA LION
SEA OTTER

For additional photos, see Chris Hartzell's photo gallery.

Roger Wolfe for Monterey Seabirds