Friday August 25, 2006

"Weird," was the word of the day. Don Roberson, who wrote the book on Monterey Birds, kept repeating that as if it were his mantra. Our Aug. 25 outing stood in stark contrast to our last outing. Where were all the seabirds?

Things started out nicely with our first sighting in some time of a SURFBIRD on the Coast Guard jetty along with a couple of BLACK TURNSTONES. The BRANDT'S CORMORANTS there have relinquished the top of the jetty back to the California Sea Lions after a very successful nesting season.

Inside the harbor we find our first adult PIGEON GUILLEMOT and RED-NECKED PHALAROPES which seem to be everywhere of late. Moving along Cannery Row a RHINOCEROS AUKLET was spotted just off one of the tiny pocket beaches along the row. The first COMMON MURRES was also seen in this area. Three alcid species in the first twenty minutes isn't a bad start.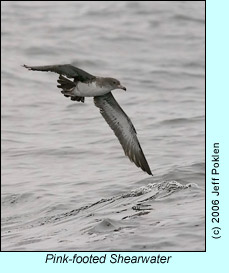 Moving past Pt. Pinos and heading offshore we begin seeing numerous SOOTY SHEARWATERS all around the boat and soon these are joined by PINK-FOOTED SHEARWATERS.

Our destination is the 1500-fathom spot; at 9,000 feet it is the deepest section of the Monterey Submarine Canyon and typically an active place for birds. But not today. As we move farther offshore we see fewer and fewer seabirds. "Weird," Don says for the first of many times about then.

There seems to be a special on PARASITIC JAEGERS. They are the default jaeger for the day. It takes a while before we add a few POMARINE JAEGERS showing full spoons to the mix.

We finally come upon a small flock of shearwaters roosting on the water. I'm at the stern, chummer for the day. I comb through the flock finding nothing new and when I get back to chumming I see that I've lost my entourage of gulls. That was fast.

We like to keep a bunch of gulls at the stern. Any seabird who happens by will see them and cruise by the boat to see what the excitement is about. We use cheap movie theatre type popcorn that we buy in big bags. Problem is the store we get them from is out, as is our stash. I go buy some kernels, borrow my mom's hot air popcorn maker and proceed to make a mess of our kitchen for two days. My wife comes home and says, "What the hell happened in here?"

It turns out the gulls really don't like popcorn without all the additives and oils. Try as I may once we get away from Monterey they won't touch the clean popcorn. Question is: How do they know? Is it the lack of aroma and fat? You tell me.

So I start tossing anchovies at any gull that happens by. The first gull is always hardest; once you get one at the stern the others come easy. It takes about twenty minutes to get the gulls going again but they won't touch the *&%#@ popcorn I've gone to such trouble to procure.

Then I get an idea and soak the popcorn with some fish oil I have with me. Now you'd think that would appeal to a hungry gull offshore but no. Back to the anchovies and squid until I run out. Picky damn gulls!

"Weird'" Don says.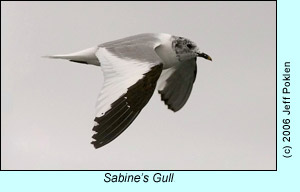 Finally some SABINE'S GULLS come to our rescue and a few flyby ASHY STORM PETRELS. We also begin to see some RED PHALAROPES as we move offshore. An uncooperative CASSIN' S AUKLET flies by.

Moving farther offshore things slow down; we've lost the gulls and SOOTIES. We do find a Northern Fur Seal but not much else.

A mile and half from the 1500-fathom spot which is 12 miles offshore we finally find a BULLER'S SHEARWATER of which we find only a few today. Then a blessed BLACK-FOOTED ALBATROSS comes into the boat and a few more put in an appearance. (Now that we've run out of chum!)

We take a right turn and head back toward the bay. The closer we get to the bay the more seabird activity we encounter. We've seen an uncooperative Humpback Whale but inside the bay we find a more willing one and before getting back to the harbor we find a NORTHERN FULMAR and pick up some Risso's Dolphins too.

Walking back to my car afterwards with my fellow carpoolers I hear Don commenting to a visiting birder friend of his from Germany.

"Weird," he says and mumbles something about global warming.


Roger Wolfe for Monterey Seabirds