Sunday August 27, 2006 - 12-hour Offshore Trip

We often refer to Monterey Seabirds' 12-hour outings as a trip to the albacore grounds. What we try to do on these trips is to find the areas where there is a temperature or convergent break in the water temperature. The albacore tuna like to hunt along these breaks. Their prey forage for plankton along the break because it forms a barrier due to the difference in both water density and temperature.

Synthliboramphus murrelets like to gather along these breaks for the same reason, and they are our target on these trips.

Last weekend albacore fisherman had to go more than 75 miles offshore to find the temperature break. Unfortunately that is outside of our range on a 12-hour trip. So we opt for plan B.

It is still quite dark as we get underway with a full trip of 25 participants on board at 5:30 am. Our plan is to head for Sur Ridge, as it proved very birdy on our Aug. 13 trip, then keep heading southwest from there. The weather can often pose a problem heading in this direction but today the conditions are quite favorable. We encounter very little swell and the wind is light. The marine layer is quite high for good viewing conditions. Not perfect but close enough.

By the time it gets light enough to begin birding we are well off Cypress Point. Actually we start the day with mammals: a pod of RISSO'S DOLPHINS.

Our first birds aside from gulls are COMMON MURRE and then SOOTY and PINK-FOOTED SHEARWATERS. We start picking up POMARINE JAEGERS, lots of them; they are the bird of the day. In fact the whole trip turns into a jaeger study tour of both behavior and morphology.

LONG-TAILED JAEGERS are scarce, however the sightings are highlighted by an example of them feeding as we observe one kleptoparasitize a "commic tern". The jaeger harasses the tern until it gives up the fish. The jaeger snags this in mid air, drops it, and snags it again. The tern then proceeds to attack his attacker but thinks better of it and flies off.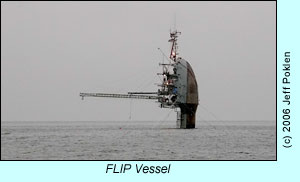 From a distance we can see an apparition sticking out of the sea like a huge shark fin. It looks like something out of Star Wars or a James Bond film. Eventually we draw close to this strange research vessel known as a Floating Instrument Platform (FLIP) standing vertically in the ocean. See: http://sio.ucsd.edu/voyager/flip/.

We are visited by our first of many land birds: a BROWN-HEADED COWBIRD. Don Roberson has brought a sad looking withered willow branch to put atop the cabin. He claims he's brought it from the Big Sur river mouth and it's a certified vagrant trap. Next up is a WILSON'S WARBLER that shows a brief interest in the branch but keeps going. A little while later we have 3 MARBLED GODWITS circling the boat for some time.

These lost land birds get disoriented in the fog, get out over the ocean and lose their bearings. We see both gulls and jaegers pursue the cowbirds that circle the boat and watch a jaeger separate a peep sandpiper from a flock and try to snatch it. It's a bird eat bird world out there.

SABINE'S GULLS are plentiful and we have a good showing of ARCTIC and COMMON TERNS and both RED and RED-NECKED PHALAROPES.

Our second warbler species approaches the boat but fails to land: a BLACK-THROATED GRAY.

I wonder aloud over the FRS radio, "Where are the BULLER'S SHEARWATERS?" Richard Ternullo radios back that we will see them in 3 miles when we get to Sur Ridge. He's close; we find one in a mile and a half and end up seeing many.

We cruise along the west side of Sur Ridge then head in the direction of the Davidson Seamount. Along here we have one of two RHINOCEROS AUKLETS and a single ASHY STORM PETREL which everyone manages to get on.

A couple of SOUTH POLAR SKUAS complete the skua slam.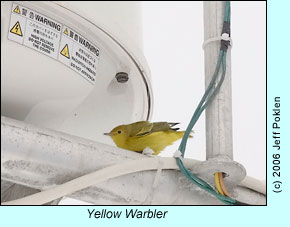 About this time our third warbler comes to the boat and lands in the vagrant trap willow branch and then on the bell and finally on one of the benches. We grab the poor YELLOW WARBLER and tuck him in a sack to return to land with us. He does a lot of chipping in protest but settles down when I put some suet in the bag with him.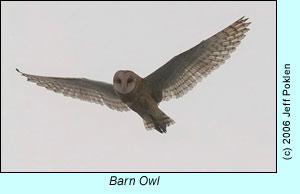 At 20.5 nautical miles from Pt. Sur we are visited by a PURPLE MARTIN but the oddest of all is the ghostly BARN OWL that we find 23.7 miles out flying high over the water. He checks out our boat but doesn't show any inclination to land until he gets buzzed by a jaeger. He returns to the boat briefly before proceeding onward to his probable demise.

Two more warblers come to the boat but do not land. One is a TOWNSEND'S and the other ends up a sp. Four and possibly five warblers are seen on the day, not bad. Our last land bird is 35 miles out and headed west toward Hawaii -- a GREAT EGRET.

We make the requisite stop to see a Mola Mola (or Ocean Sunfish); there have not been many around this year.

As we head towards Davidson our spotters Dan Singer and Don Roberson spot a flyby CRAVERI'S / XANTUS' MURRELET that unfortunately keeps going before they can nail it down to species.

Out here we find a NORTHERN FUR SEAL, PACIFIC WHITE-SIDED DOLPHINS and a few DALL'S PORPOISES.

We manage to get about 23 miles from the Davidson Seamount or 42 miles offshore and then it's time to turn around. On the way back we comb through a great many shearwaters but despite our best efforts we cannot find anything to brag about.

Members of the The Tulare Audubon Society are with us today, and what a great group they prove to be. They never let up and actively look for birds the entire twelve-hour trip.

Back in Monterey we stop at the cemetery near El Estero. I pull the Yellow Warbler out of his sack. He blinks a few times trying to get his bearings and then he's away in flash to the nearby eucalyptus.

For additional photos from this trip, see Jeff Poklen's photo gallery.

Roger Wolfe for Monterey Seabirds