Sunday August 13, 2006

The marine layer overhead Sunday was high off the water, providing excellent viewing conditions for seabirding. For the photographers on board it was to be a black and white kind of day.

Our Aug. 13 Monterey Seabird outing was an experience in how dramatic the offshore migration of seabirds can be. Skipper Richard Ternullo hatched a plan after talking with fishermen out at the wharf. A look at the sea surface temperature map confirmed what he had heard. There appeared to be a line of convergence offshore in the vicinity of Sur Ridge or what the local fisherman call "the Weenie".

These convergences form a wall due to the change in water temperature and its density. Both fish and seabirds work along these to forage for prey.

Before even reaching Pt. Pinos we picked up a single RED PHALAROPE in with a small group of RED-NECKEDS feeding in the kelp beds. Then leaving the point behind we headed southwest and offshore. SOOTY SHEARWATERS were soon joined by masses of PINK-FOOTEDS. Shortly thereafter we found our first BULLER'S SHEARWATER and the first of many POMARINE JAEGERS. BLACK-FOOTED ALBATROSS were all over the place with as many as 9 at the stern at one time.

Richard alerted us when he found the water temperature take a sharp turn downward from 59.8 to 56.6. We could just make out slick water running down the break but what was most noticeable was the line of Red-necked Phalaropes stretching down the line.

Excitement ensued upon finding our first SABINE'S GULL and as we moved farther toward Sur Ridge we came upon numerous flocks of them around the boat and on the horizon. Personally, it was the most SAGU's I've ever seen in a single day. All the spotters thought it was remarkable. We also encountered occasional ARCTIC TERNS that outnumbered the three COMMON TERNS that flew overhead. In this area were a few good-sized flocks of Buller's Shearwaters and a lot more Pink-footeds too.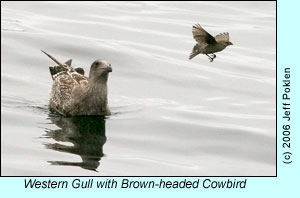 So here we are around 20 miles offshore and in comes a passerine. Do you know what the most frequent passerine sighted out there is? Brown-headed Cowbird. We had three of them on the day with two of them landing on the rails. We would lose them and watch the Western Gulls chase them about and think, well there goes that one, but ten minutes later they'd be back. Strange.

HUMPBACK WHALES numbered in the dozens offshore and we did see some lateral lunge feeding in progress.

A singular ASHY STORM-PETREL put in a brief flyby, as did two NORTHERN FULMARS. We saw only one CASSIN'S AUKLET that tried to evade us with quick dives but everyone on board eventually did get in some views of the little devil. Where are all the others? Rounding out the alcids were many father-chick pairs of COMMON MURRES.

A single NORTHERN FUR SEAL was in its characteristic jug handle pose and showing signs of molt.

A PARASITIC JAEGER put in an appearance but the few LONG-TAILED JAEGERS sighted were distant and uncooperative, much to the chagrin of the 23 participants on board.

After reaching Sur Ridge we turned back and took a route that was only three and a half miles north of our outward track and it was nearly bird free in comparison. Indicative of what a crapshoot pelagic birding can be at times.

We had seen a pair of SHORT-BEAKED COMMON DOLPHINS offshore but after clearing Pt. Pinos we were alerted to the presence of a much larger pod, so we made a detour to check them out. Might be a bad omen for albacore fishing this year. Typically when these dolphins are present the albacore prove to be hard to find. Not good for our local fisherman after the disastrous salmon season.

Thanks to our pirate crew of spotters: Mola Mola Tim Amaral, Dastardly Dan Singer, Terrible Pterodroma Todd Easterla and Richard Pegleg Ternullo.

For additional photos from this trip, see Jeff Poklen's photo gallery.

Our next outing is on Friday, Aug. 25 and there is still space available. There are no spaces left on our 12-hour offshore trip on August 27, but there are still some spaces available on the Sept. 17 offshore trip. We try to keep the group small in the interest of keeping things comfortable. See our fall schedule and other trip reports for more information.

Go on three trips and the fourth is free.

The complete list of species is as estimated:

BLACK-FOOTED ALBATROSS-47
PINK-FOOTED SHEARWATER-350
BULLER'S SHEARWATER-43
SOOTY SHEARWATER-25,000
ASHY STORM-PETREL-1
BROWN PELICAN-36
BRANDT'S CORMORANT-800
PELAGIC CORMORANT-2
BLACK TURNSTONE-3
LONG-BILLED CURLEW-6
RED-NECKED PHALAROPE-230
RED PHALAROPE-2
POMARINE JAEGER-24
PARASITIC JAEGER-1
LONG-TAILED JAEGER-5
CALIFORNIA GULL-45
WESTERN GULL-300
HEERMANN'S GULL-7
SABINE'S GULL-450
ARCTIC TERN-13
COMMON TERN-3
ELEGANT TERN-20
CASPIAN TERN-2
COMMON MURRE-500
PIGEON GUILLEMOT-10
CASSIN'S AUKLET-1

SEA OTTER-4
CALIFORNIA SEA LION-65
HUMPBACK WHALE-25
SHORT-BEAKED COMMON DOLPHIN-150


Arrrr, Jolly Roger for Monterey Seabirds