Sunday Oct. 20, 2002

The Sea Wolf II got underway at 7:40 am under gray overcast skies and relatively calm seas. The great thing about this 70-foot vessel is that it is used for natural history tours exclusively so there are no live bait tanks on the deck or old fishy doings about. In fact the seabirding trips are the only time you'll find any fish, which we use for chum, on board.

A nice group of folks on board included many locals, mostly from the Santa Cruz side of the bay.

As always we start by cruising along the Coast Guard jetty in search of rocky shorebirds and as in our previous tours the SURFBIRDS and BLACK TURNSTONES don't disappoint. A nice addition is a single RUDDY TURNSTONE on the jetty rocks. CALIFORNIA SEA LIONS bark and sway on the top along with many BRANDT'S CORMORANTS.

Leaving the harbor we come upon our first of two winter plumaged PIGEON GUILLEMOTS and the first of the many PARASITIC JAEGERS we will see today. PELAGIC CORMORANTS put in an appearance along with the expected gull species -- WESTERN, HEERMAN'S, CALIFORNIA and our first GLAUCOUS-WINGED of the year we will find later in the day. Still inside bay waters we have our first BLACK-VENTED SHEARWATERS.

Moving out into deeper water we begin to see more shearwaters -- BULLER'S and PINK-FOOTED actually outnumber the SOOTYS now. NORTHERN FULMARS are common with about 60 seen on the day in a variety of color morphs. Diminutive and shy CASSIN'S AUKLETS are also quite common and it takes some doing before some of them allow us to get close enough to see them well. RHINOCEROS AUKLETS and POMARINE JAEGERS were also seen frequently.

At one point we get buzzed by a MERLIN who tears through the gull flock at the stern, other landbirds include a group of 4 warblers that we thought were likely Yellow-rumps and a Swallow that we weren't able to ID to species. BLACK-FOOTED ALBATROSS numbered 7 on the day.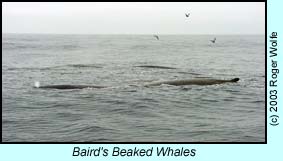 The trip highlight was when our skipper Richard Ternullo spotted a group of BAIRD'S BEAKED WHALES. He powered the boat in their direction and as we approached we could see the dorsal fins and a few of them lifted their heads for us to see before initiating a deep dive that they are known for. We waited for several minutes for them to resurface and when they did Richard spotted them a quarter of a mile off.

When I went up to the wheelhouse to grab my camera Richard told me, "Hey Roger, you are about to have the best look you've ever had at one of these whales." Man, was he right. We managed to get close to the pod of 16 and for several minutes they swam along beside the boat giving us once in a lifetime looks. Everyone on the bow, myself included, were stunned and delighted with what we were witnessing. Reputed to be boat shy, very little is known about these strange cetaceans. Truth be told they didn't seem shy at all. Unforgettable!

Other marine mammals on the day were DALL'S PORPOISE, 2 BLUE WHALES, 31 HUMPBACK WHALES. PACIFIC WHITE-SIDED, LONG-BEAKED COMMON, NORTHERN RIGHT WHALE and distant RISSO'S DOLPHINS. One male ELEPHANT SEAL was seen bobbing at the surface.

Back to birds, we had single COMMON and PACIFIC LOONS. The route we followed was offshore of the Monterey Bay just beyond its widest point from the Monterey side to the Santa Cruz side crossing over the deep water of the submarine canyon. This worked out nicely for the county birders we had on board who were able to add to two of their California county lists in one trip.

Bird of the day was the XANTUS' MURRELET we found just after crossing back into Monterey county waters on the way back to the harbor.

Our leader to participant ratio was 1:4.2.


Trip Species List for Oct. 20, 2002
BRANDT'S CORMORANT
DOUBLE CRESTED CORMORANT
PELAGIC CORMORANT
ELEGANT TERN
SURFBIRD
BLACK TURNSTONE
RUDDY TURNSTONE
PIGEON GUILLEMOT
PARASITIC JAEGER
POMARINE JAEGER
WESTERN GULL
HEERMAN'S GULL
BONAPARTE'S GULL
GLAUCOUS-WINGED GULL
CALIFORNIA GULL
NORTHERN FULMAR
BULLER'S SHEARWATER
BLACK-VENTED SHEARWATER
SOOTY SHEARWATER
PINK-FOOTED SHEARWATER
CASSIN'S AUKLET
XANTUS'S MURRELET
BLACK-FOOTED ALBATROSS
MERLIN
COMMON LOON
PACIFIC LOON
GREAT EGRET

DALL'S PORPOISE
BLUE WHALE
HUMPBACK WHALE
PACIFIC WHITE-SIDED DOLPHIN
COMMON DOLPHIN
RISSO'S DOLPHIN distant views
NORTHERN RIGHT WHALE DOLPHIN

ELEPHANT SEAL
CALIFORNIA SEA LION
SEA OTTER

MOLA MOLA
BLUE SHARK

Roger Wolfe for Monterey Bay Whale Watch