Sunday Feb. 9, 2003

When I realized we had a trip scheduled for the weekend of the AT&T Pro Am Golf Championship my heart sank. There is typically a phenomenon that as a kid growing up in the area we referred to as "Crosby weather". The former name of the tournament as in Bing Crosby. Invariably the weather would turn foul for the tourney, and in '62 there was even a blizzard!

Ah, but my worries were all for naught. On Sunday's seabirding trip conditions were about as nice as you could hope for and the Pacific lived up to its name. We hosted an experienced group of hardy seabirders, many up from southern California and several armed with long lenses.

Inside the harbor we enjoyed close-up views of a wintering pair of HARLEQUIN DUCKS. We were close enough to hear the male's high squeaky call. On the coast guard jetty we spotted 2 SURFBIRDS and 6 BLACK TURNSTONES. Before we even got to Cannery Row we spotted a RED-NECKED GREBE and our first of 10 ANCIENT MURRELETS. Our skipper Richard maneuvered the boat into favorable light for the photographers on board and we spent a fair amount of time trying to get some shots in during the bird's brief time on the surface. In this same area we began seeing PACIFIC LOONS and PELAGIC CORMORANTS.

We headed out into the bay where we could see a lot of bird activity. En route Richard pointed out a POMARINE JAEGER. We came upon good numbers of alcids; RHINOCEROS and CASSIN'S AUKLETS, COMMON MURRES along with a sizable flock of BLACK-VENTED SHEARWATERS both in flight and on the water. Here we also had our first NORTHERN FULMAR.

Our route headed south past the galleries at Pebble Beach which we could see, past Carmel Bay to Soberanes Rocks. A report of Killer Whales came in on the radio from this area but the only sign we saw of them were the two GRAY WHALES we saw heading north instead of south. A large herd of RISSO'S DOLPHINS were very receptive to our presence. The group was estimated to be 200 strong. They hung around quite close to the boat for some time. Here we also came across the marine mammal of the day, a NORTHERN FUR SEAL caught napping in its distinctive curled up way, shading its head with its flippers. He barked at us and then left the scene.

From Soberanes Rock we turned back toward deeper water and a fishing vessel we saw in the distance. A PINK-FOOTED SHEARWATER came in close to the stern to check out the chum; we saw 3 on the day. A single dark shearwater sp. landed on the water and we motored over to check it out. It was very obliging, allowing us to get fairly close and get some photos. There was some spirited discussion on this bird. Leaders Don Roberson and Steve Bailey declared it a SHORT-TAILED SHEARWATER. Another sooty type shearwater sp. seen later in the day went unidentified.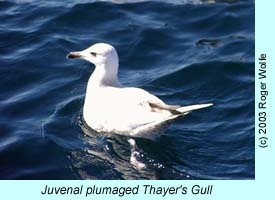 THAYER'S GULL was called from the stern and came right up to the boat in pursuit of popcorn. All on board were able to get photos of this juvenal plumaged bird and a thorough going over of the characteristics to look for. Later in the day we did the same with an adult THGU. BLACK-LEGGED KITTWAKES put in several appearances; 15 were seen on the day.

We headed back toward the harbor down the middle of the bay. Along the way CASSIN'S and RHINO AUKLETS were abundant. Estimated numbers were for 3,000 CAAU and 1,500 RHAU!

Near shore we cruised the beach and were rewarded with our bird of the day -- a MARBLED MURRELET which is rarely seen on the Monterey side of the bay.

Our next trip is on March 9. Hope to see you then.

Roger Wolfe for Monterey Bay Whale Watch