Sunday Oct. 13, 2002
Thick morning fog made for less than ideal conditions on our October 13 seabirding cruise with Monterey Bay Whale Watch. Typically the fall is the best season here for clear and sunny days on the Monterey Bay but today was an exception. Seas were calm and the water temp 56 F. We followed a different route than on our previous trips by heading south along Monterey County's Big Sur coastline towards Pt. Sur to the offshore waters in the vicinity of the Sur Ridge. Our skipper, Richard Ternullo, knew that albacore fishing had been good in this area and the odds were good for some interesting seabirds. Our return route was via Carmel Bay and Cypress Point.
The
SURFBIRDS
along the Coast Guard jetty were cooperative as we left the harbor. Today's group was comprised of mostly local birders but we did have a few from out of the area and a visitor from Sweden. The locals acted as hosts, helped the visitors and neophyte seabirders to get on the birds and shared the marine sanctuary with them.
BLACK-VENTED SHEARWATERS
were seen inside the bay and as we passed out of the bay waters we came upon a nice mixed flock of shearwaters flying in and out of the fog but managed to get everyone on our lone
FLESH-FOOTED SHEARWATER
of the day. Here we also had our first of many
BULLER'S
and
PINK-FOOTED SHEARWATERS
.
SOOTY SHEARWATER
numbers were way down with only 20 seen on the day.
We had many
NORTHERN FULMARS
in fresh plumage and various morphs, a dozen
CASSIN'S AUKLETS
, one right next to the boat.
POMARINE JAEGERS
were numerous but only a few
PARASITIC
were seen. Many small flocks of
RED PHALAROPES
. A lone
SABINE'S GULL
was seen in the distance as the fog cleared around noon.
We had one landbird that circled the boat but refused to land. It created a bit of excitement as we tried to identify it on the wing. There was mention of a rare bunting or two but the group consensus was that it was likely a very lost
SWAMP SPARROW
.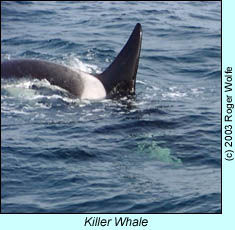 The highlight of our trip was non avian. In his 28 years leading natural history trips almost daily out of Monterey this was only our skipper's third sighting of a
SEI WHALE
! We all had nice looks at this whale before it dove once and for all. On the way back to the harbor we spotted a pair of
BLUE WHALES
but before we got to them a pod of 4
KILLER WHALES/ORCAS
appeared. The Blues wanted nothing to do with them and powered out of the area in a panic. The Orcas were cooperative and made for a great photo opportunity.
In addition to the usual
MOLA-MOLA SUNFISH
we saw a
BLUE SHARK
and several leaping
ALBACORE TUNA
.
Lastly, as we approached the harbor we spotted a single
SHORT-TAILED SHEARWATER
for our 6th species of shearwater on the day.
Special thanks to our leaders Don Roberson and Todd Easterla.
Trip List for Oct. 13, 2002
Surfbird 3
Black Turnstone 5
Pelagic Cormorant 20
Brandt's Cormorant 450
Rhinoceros Auklet 7
Common Murre 15
Black-vented Shearwater 50
Sooty Shearwater 20
Pink-footed Shearwater 300
Buller's Shearwater 60
Flesh-footed Shearwater 1
Short-tailed Shearwater 1
Pomarine Jaeger 7
Parasitic Jaeger 3
Red Phalarope 40
Cassin's Auklet 12
Sabine's Gull 1
Northern Fulmar 60
Elegant Tern 4
Eared Grebe 1
Western Gull 300
Heerman's Gull 200
Brown Pelican 37
SEI WHALE 1
Blue Whale 2
Killer Whale 3
Albacore Tuna
Mola Mola
Blue Shark
Roger Wolfe for Monterey Bay Whale Watch