Saturday May 31, 2009

We start our day in an uncustomary way. We blow by the Coast Guard jetty, we blow off Cannery Row and the stops for Pigeon Guillemots and Pelagic Cormorants. We pick up speed as we leave the harbor and keep it up. Today we are on a mission. Having seen Murphy's Petrels in the bay the prior weekend and having received reports of more Murphy's from a seabird researcher aboard an NOAA survey vessel I decided to schedule an impromptu trip to see if we can find them again. We are able to attract a nice sized group of 18 who sign on with two days notice so they can have a shot at seeing Murphy's Petrel. Being a week later than our earlier sightings I hesitate to characterize it as a chase trip per se but it is in that spirit that we take to the sea today.

All on board are veteran seabirders with Monterey Bay experience so we don't do the usual routine we do when we know we have new visitors to the area. This way we have more time to work with and can cover more ocean in our search. With six Monterey Seabird leaders/spotters and the other experienced sets of eyeballs on board, if a Murphy's Petrel flies by we are going to see it!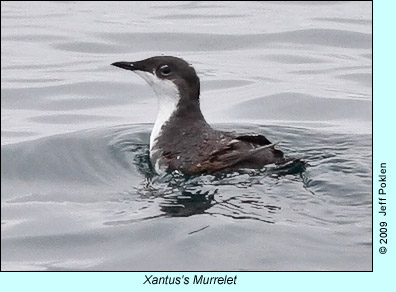 Skipper Mike Johns takes us out over to the south rim of the Monterey Sea Canyon and we follow it offshore. We don't stop for SOOTY or PINK-FOOTED SHEARWATERS or even BLACK-FOOTED ALBATROSS. We do slow down for RISSO'S DOLPHINS to avoid any collisions. We have brief looks at some COMMON DOLPHINS and have PACIFIC WHITE-SIDED DOLPHINS ride our bow.

We do stop for a LONG-TAILED JAEGER. This is a surprise and the first spring record for the Monterey Bay ever according to Don Roberson who is on board today. Interestingly we have sightings of all three jaegers today, one PARASITIC and two POMARINES on the day (plus one jaeger sp.).

NORTHERN FULMARS get our attention but not any stops. We do stop for the terns we see sitting atop bull kelp patties long enough to id them as COMMON TERNS.

Working our way westward we begin to approach the shipping lanes and see a large container ship heading north; soon we are nearly to the 1500 fathom spot about 20 miles offshore. But aside from the occasional shearwater and the gulls at our stern we find these waters quiet. We take a right turn on a northern heading towards "the Bump" where we had our initial sighting of Murphy's Petrel the weekend prior.

Crossing into Santa Cruz waters we see 2 more COMMON TERNS and start seeing more RHINOCEROS and CASSIN'S AUKLETS. The call to STOP THE BOAT is for a pair of XANTUS'S MURRELETS, presumably a father chick pair and one of the earliest records for a non-warm water year. (Don Roberson pers. comm.) The water temp is 11.7 C or 53 F.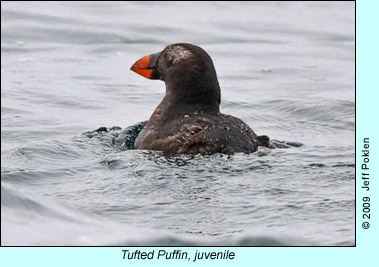 We keep moving toward the Bump, but wait, what is the alcid off the bow? We stop the boat for a TUFTED PUFFIN and a bit later we stop for a second one (both 1st summer birds). Passing over the Bump we continue on and have two young SABINE'S GULLS cross our wake.

We manage to get nearly as much coverage as we do on some of our 12-hour trips.

Back in Monterey County we pause for a pair of HUMPBACK WHALES and the cameras come out, so I ask if anyone wants to wait five minutes for them to resurface. Kris Olson flaps her arms and shakes her head no. "We want birds!" she says.

But the bird we want most remains elusive, the nemesis of many a North American birder, no Murphy's Petrel today but we gave it a valiant effort.

See the Google Earth image showing our track and
locations of selected sightings (opens in new window).

See Jeff Poklen's photo gallery of this trip at: http://www.pbase.com/jpkln/31may2009


Also seen:

PACIFIC LOON
RED-THROATED LOON
BRANDT'S CORMORANT
WESTERN GREBE
CLARK'S GREBE
BROWN PELICAN
HEERMANN'S GULL
WESTERN GULL
CALIFORNIA GULL
PIGEON GUILLEMOT
COMMON MURRE
GREAT BLUE HERON

ELEPHANT SEAL
CALIFORNIA SEA LION
NORTHERN FUR SEAL

Roger Wolfe for Monterey Seabirds