Saturday May 23, 2009

Just after I finish the introductory safety talk I ask our skipper Richard Ternullo if he has anything to add. He frowns a bit as he thinks about it and says, "To tell the truth, there hasn't been a whole lot of bird activity lately." But as we motor out past Pt. Pinos we start finding tight little flocks of SOOTY SHEARWATERS and he says to me, "This is the most birds I've seen around in weeks."

As we sift through the flocks on the water we find several PINK-FOOTED SHEARWATERS. Tim Amaral finds a single MANX SHEARWATER in the mix that is cooperative enough to reappear several times so that nearly everyone gets on it. What a nice start to this foggy day. Fortunately the marine layer is high so our visibility is not impaired.

As we arrive at the southern rim of Monterey Canyon we start seeing our first BLACK-FOOTED ALBATROSSES and soon have a crowd of them at the stern. I declare this area Albatross Central as I count 55 gathered behind us. Within minutes of saying that a LAYSAN ALBATROSS flies in and no sooner has Tim Amaral called it out when a second one shows up. For much of the day we have at least one Laysan flying around the boat. One has an orange band and we assess the markings on the underwings so that we estimate we had four different individuals on the day and one follows us into Santa Cruz County thus county birder Roy Carlson declares it a "two-fer".

As we approach the county line on our northwest heading we start seeing quite a few CASSIN'S AUKLETS springing out of the water and into flight as we approach. Here and there we see NORTHERN FULMARS in different color morphs.

Crossing into Santa Cruz county waters I'm chumming away at the stern when I catch a glimpse of a bird whose wingbeats differ from the adjacent Sooties. I get my bins on it, click on the image stabilizer. "Stop the boat!" I yell into the wake twice before I hear others echoing my call.

The boat stops and somebody asks, "What do you got?"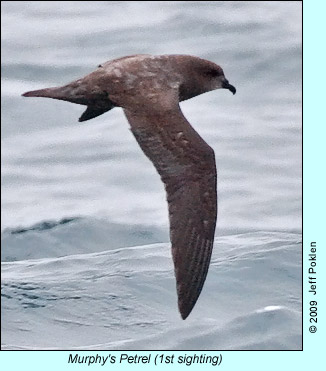 Initially I say, "Tell me this isn't a fulmar," and the next thing that comes out of my mouth surprises even me. "Grey-faced Petrel (a.k.a. Great-winged), get on this bird!" Grey-faced/Great-winged is the only dark Pterdroma I have experience with (in New Zealand) but subsequent reviews of our photos reveal that this bird is actually a MURPHY'S PETREL. It shows less white on the face and a smaller bill than Grey-faced/Great-winged. For everyone on board this is our first encounter with a Murphy's Petrel and the first record inside the Monterey Bay (see Roberson 2002, Monterey Birds). It is the second county record for Santa Cruz.

The sound of cameras is welcome and everyone on board gets a look as the bird parallels the boat, flies ahead of us and then it reverses course to whiz by the boat a second time albeit a bit farther away. We have only 15 birders on board today and we are all feeling pretty satisfied with today's outing, but the day is still young.

Before leaving Santa Cruz county waters we find a single RED PHALAROPE but record only a few RED-NECKED PHALAROPES.

I'm finishing lunch in the top drive when a commotion in the back stops the boat for a FRANKLIN'S GULL. A look at the plotter tells us we are essentially adrift on the county line, thus we score another two-fer. We pick up a second FRGU well into MTY county later.

A little more than an hour after the initial Pterodroma sighting I'm chumming again when the boat stops suddenly and Richard comes flying out of the cabin. "Is that the same petrel?" The bird comes zipping down the left side of the boat and then banks and turns before flying away from us so we get good looks at it ventrally and dorsally.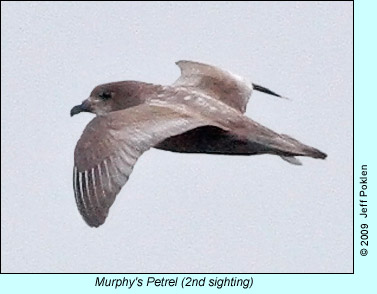 Everyone gets on this bird, it looks paler, grayer overall, brighter on the underwing. Through my bins I can make out a subtle dark M pattern on the upperwing , and the tail is long and pointed like a Wedge-tail Shearwater. The photographers get their shots so we can do some instant replay and after some review and a look at the field guides we surmise it to be a MURPHY'S PETREL! A Pterodroma two-fer! ( It is possibly the same bird seen earlier but now that the fog has burned off some the plumage characteristics may be more apparent in bright sunlight. I did not see the subtle M pattern on the upperwing on our first sighting.)

And everyone thinks you need to be in North Carolina for Memorial Day weekend to see Pterdromas!

All of us are pinching ourselves to make sure this isn't some fantastic birding dream. Leaders Bruce Elliot, Tim Amaral, myself and Richard Ternullo are all incredulous at our great luck.

With everyone aglow we head for the dock finding some COMMON and ELEGANT TERNS and a lovely pair of SABINE'S GULLS along the way. What a day!

Also seen:

PACIFIC LOON
COMMON LOON
STORM-PETREL sp.
BROWN PELICAN
PELAGIC CORMORANT
BRANDT'S CORMORANT
HEERMAN'S GULL
WESTERN GULL
CALIFORNIA GULL
COMMON MURRE
PIGEON GUILLEMOT
RHINOCEROS AUKLET

HUMPBACK WHALE
PACIFIC WHITE-SIDED DOLPHIN
SEA OTTER
CALIFORNIA SEA LION


For additional photos, see Jeff Poklen's photo gallery for the May 23 seabird cruise.

Roger Wolfe for Monterey Seabirds