Sunday September 16, 2007

We don't mess around this morning. The weather forecast is for the wind to pick up in the afternoon. Our quest this day is for the storm-petrel flocks, which can be very difficult to find in windy conditions or choppy seas. We leave the harbor in a hurry to make a run for the north coast of Santa Cruz to an area known as "the Fingers". These are a series of parallel sea canyons - Ascension, Año Nuevo and Cabrillo Canyons.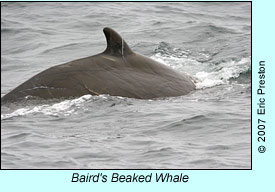 Motoring along we see SOOTY and PINK-FOOTED SHEARWATER veering about. Our skipper today is David Lemon and when he cuts the engine speed he tells us there is a pod of BAIRD'S BEAKED WHALES blowing at the surface just ahead. This is remarkable seeing these animals on two consecutive days. We manage to get fairly close to this pod of 15 but they dive and often stay down as long as 45 minutes. We figure that was that but all of a sudden another group of 7 are blowing right next to our boat! They come even closer for the best looks ever at these strange looking cetaceans about which very little is known.

Bob Flood is on board again today and he smiles with his video camera in hand, "Well, we can go home now. That was fantastic!" I know he's kidding; he's on a mission to videotape storm-petrels. Bob is well known in England where he leads pelagic birding trips off the Isles of Scilly. Perhaps his greatest claim to fame is the rediscovery of the thought to be extinct New Zealand Storm-Petrel in the Hauraki Gulf.

Crossing the bay I'm distraught about the conditions but as the day progresses the weather lays down a bit. We find a few SABINE'S GULL, RHINOCEROS AUKLET, COMMON MURRE and BULLER'S SHEARWATER. A single NORTHERN FULMAR flies up our wake as do a few BLACK-FOOTED ALBATROSS to investigate the popcorn and anchovy chum being dispensed by Jim Alford.

PACIFIC WHITE-SIDED and NORTHERN RIGHT WHALE DOLPHIN come in to ride our bow. POMARINE and PARASITIC JAEGER and SOUTH POLAR SKUA parallel the boat for some nice looks.

We also find both NORTHERN FUR SEAL and an ELEPHANT SEAL napping at the surface.

When we come to a spot known as "the Bump" we start seeing ASHY-STORM PETRELS and Tim Amaral spots a WILSON'S STORM-PETREL too. These fly by storm-petrels are frustrating. Some of our passengers are having difficulty seeing them. I tell them to wait until we find the flocks and they will surely get some glass on them.

As we draw close to the coastline north of Santa Cruz the wind lays down and conditions are now conducive to finding the flocks. We come to a long band of shearwaters resting on the water and spend a fair amount of time sorting through them but find nothing out of the ordinary.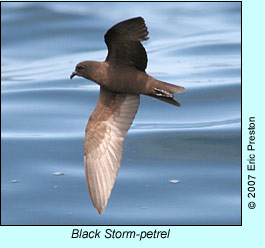 The search continues until finally off of Davenport we find the flock of stormies. They all appear to be ASHY but then we spot at least one WILSON'S and a single FORK-TAILED STORM PETREL. We spend the next hour combing through the restless flocks. We lay down a slick of cod liver oil and BLACK-STORM PETREL suddenly appear. Some of them come very close to the boat and the photographers on board report getting their best shots ever.

Too soon it is time to head back for the Monterey Harbor. Just off Pt. Pinos we stumble upon a small pod of RISSO'S DOLPHINS.

It has been quite a weekend. Those who came out on both of our trips saw a total of a dozen different types of marine mammals and an excellent cross-section of seabirds.


For additional photos from this trip, see Eric Preston's photos.

Roger Wolfe for Monterey Seabirds