Saturday September 15, 2007

Don Roberson's report with photos is at: http://montereybay.com/creagrus/MtyBay15Sep07.html

There are pelagic birding trips that are etched in my memory. Maybe it was a rarity we saw or my first encounter with a new species. This particular trip goes down in my book as the best marine mammal trip I've ever been on. Given, it was a seabirding trip and we did see some great birds but the rare cetaceans are what will resonate in my memory. Richard Ternullo, who has more experience on the Monterey Bay than anyone when it comes to dolphins and whales, agrees.

After leaving the dock before the break of dawn we motor out with everyone comfortably seated and as it begins to get light we begin seabirding in earnest. SOOTY SHEARWATERS are soon joined by PINK-FOOTED and BULLER'S. There is a drop in engine sound and rpm, which usually indicates our skipper has seen something. Over the P.A. Richard reports, "There's some PACIFIC WHITE-SIDED DOLPHINS and some kind of whale over here. I think it may be a SEI WHALE."

This is exciting; it is only the third time he's seen one in Monterey Bay. The last time was on one of our seabird trips on October 13, 2002. The Sei Whale resurfaces and blows for all to see. At this point we are only 3.5 nmi. offshore. We spot our first POMARINE JAEGER soon after.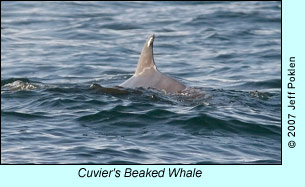 I'm up on the bow fielding questions about our marine mammals with some visiting Brits and one of them asks me, "Do you ever see Cuvier's Beaked Whales?" As the words begin to leave mouth I look past him and say, "There's one right there! CUVIER'S BEAKED WHALE! This is my first one but I recognize the distinctive rusty brown coloration right away. We do manage a few pics too. We are only 6 nmi. offshore and we've just seen two of the rarest cetaceans in Monterey Bay!

DALL'S PORPOISES come in and ride our bow for the next act and as we move farther offshore we find our first BLACK-FOOTED ALBATROSS, SABINE'S GULL and PARASITIC JAEGERS for the day. Before we've even made it into the blue water we see ALBACORE TUNA or "jumpers" as the fisherman like to call them. Up ahead we see a bird pecking at some of the tuna boiling at the surface and when we get closer we see that it is a SOUTH POLAR SKUA trying to take on the tuna. We see four on the day.

The RED-NECKED PHALAROPES we've been seeing are replaced by RED PHALAROPES as we move offshore.

At the back of the boat Dan Singer spots a few ARCTIC TERNS. We draw closer to the blue water and find the migratory corridor for LONG-TAILED JAEGERS. We see 33 in total and some right over our heads.

"Murrelet!" is called out and everyone manages to get on it right next to the boat. When it takes flight we see the white underwing of a XANTUS'S MURRELET. We make the obligatory Mola Mola or Ocean Sunfish stop for the largest one I've yet seen, about half the size of a VW Bug. We also see several BLUE SHARKS and Don Roberson spots a PACIFIC SWORDFISH.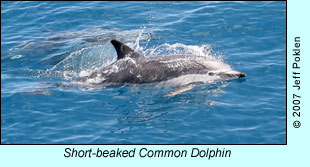 The water is now translucent blue and from the bow I spot a single common dolphin come in to ride the bow. Soon it is joined by others. The visibility is fantastic and it is a delight to watch them below the surface. These are SHORT-BEAKED COMMON DOLPHINS.

When we reach a point about 45 miles offshore we start heading back and find some COMMON TERNS along the way. We have also seen several fly-by ASHY STORM-PETRELS. Alcids are scarce with a dozen RHINOCEROS AUKLETS and 8 CASSIN'S AUKLETS along with a few COMMON MURRES for the day.

We do quite well in the pinniped department with sighting of a pair of NORTHERN FUR SEALS. Richard says this is the first time he's seen two of these together. A large male ELEPHANT SEAL is bottling at the surface and of course there are many CALIFORNIA SEA LIONS. Add HARBOR SEALS and that makes 4 species.

Then as we are heading back for the bay Richard announces that he sees a pod of BAIRD'S BEAKED WHALES blowing in unison just ahead. He turns up the gas and we manage to get nice looks at these rarely seen whales.

All on board are shaking their heads, and I hear the word incredible repeated by several of the 17 participants we have on board today. I hear it even more when we come upon a couple of HUMPBACK WHALES that start the show with pec slapping but finish it off with a series of out of the water breaches right beside our boat. Everyone is, well, incredulous.

Also seen:
BROWN PELICAN
BRANDT'S CORMORANT
HEERMANN'S GULL
WESTERN GULL
ELEGANT TERN

SOUTHERN SEA OTTER


Roger Wolfe for Monterey Seabirds