Saturday August 11, 2007

Once all our participants are on board our skipper/spotter Richard Ternullo pulls me aside to report that the weather is going to be a bit on the rough side. To be more specific the forecast is for wind from the northwest at 15 to 25 knots. The winds from the NW have been consistent this year, unlike the previous two years. These winds drive the upwelling cycle in the Monterey Bay as they push the warmer water away from the coastline, allowing the cooler water from deep in the sea canyon to rise up and replace it. As the cooler water rises to the surface it brings nutrients up from the bottom that would otherwise stay down there. It is these nutrients that drive the food chain. Without it there was widespread failure for locally nesting seabirds the last two years so there will be no complaining about the wind today.

Check out the Sanctuary Integrated Monitoring Network (SIMoN) web page on upwelling on the central coast at:
http://www.mbnms-simon.org/other/moreLinks/whats_new_upwelling.php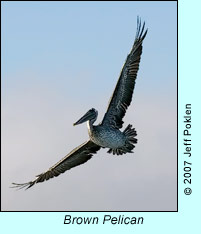 The breakwater is now accumulating more CALIFORNIA SEA LIONS by the day as the BRANDT'S CORMORANT colony there has fledged and will now allow the pinnipeds on the rocks. Along here we also find our first BROWN PELICANS and HEERMANN'S GULLS. On the other side of the jetty we find the expected PIGEON GUILLEMOTS and PELAGIC CORMORANTS. We work the area off Cannery Row in search of a Horned Puffin reported recently but no luck.

Small flocks of RED-NECKED PHALAROPES flitter by and we come to an area where SOOTY SHEARWATERS stream by. As we move across the bay these are joined by good numbers of PINK-FOOTED SHEARWATERS along with a few newly arrived BULLER'S SHEARWATERS.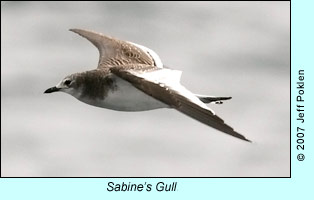 We leave the bay and head west to find a trio of HUMPBACK WHALES, then start heading NW so that when the wind picks up later we can turn around and have it at our backs. We get the chum going and soon have a nice flock of gulls in tow - WESTERNS, CALIFORNIA and HEERMANN'S. A few ELEGANT TERNS cruise by to see what all the excitement is about as do many BLACK-FOOTED ALBATROSSES and a dozen SABINE'S GULLS.

We have a dozen POMARINE JAEGERS for the day but only a couple of PARASITICS. Alcids are scarce for the most part, we see only a handful of RHINOCEROS AUKLETS but many father/chick pairs of COMMON MURRES . We cross back with the wind at our back to Pt. Joe to look again for Horned Puffins. Enroute we find a snoozing male ELEPHANT SEAL bottling at the surface. In the kelp forests off Pebble Beach we find many SOUTHERN SEA OTTERS anchored but no puffins . We round Pt. Pinos still searching along the rocky shoreline and before we know it we're back at the dock.

For additional photos, see Jeff Poklen's photo gallery for this trip.

Roger Wolfe for Monterey Seabirds