Saturday May 19, 2007

I got a call from our chummer, 13-year-old Tanner Easterla Thursday afternoon. The kid was on a field trip from school to visit the Monterey Bay Aquarium. From the observation deck he described a bird he had seen (without binoculars) that had to be a HORNED PUFFIN. I wasn't too surprised. We have had an unprecedented number of sightings in the Monterey Bay this last winter from both boats and shore-based observations. Local birders on the chase found a second HORNED PUFFIN. Richard Ternullo reported seeing a HOPU late in the day on Friday off of Lover's Point so when I showed up at the dock Saturday morning I was hopeful we could refind at least one of these for our participants.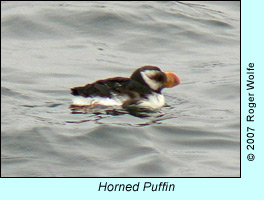 Once we are underway and have pointed out the PIGEON GUILLEMOTS, PELAGIC and BRANDT'S CORMORANTS along Cannery Row we slow to fulfill a request for a CLARK'S GREBE when Don Roberson calls out HORNED PUFFIN. Skipper Richard Ternullo maneuvers the boat in close to the delight of the photographers on board. When they have got all the shots they need we move on and then find a second HOPU for still more photos. Finally we get to the neglected CLARK'S GREBE in the company of several WESTERNS for a nice comparison.

Leaving the confines of the bay we round Pt. Pinos and head for Carmel Canyon where there had been a great deal of whale and seabird activity the day before. Our first SOOTY SHEARWATERS are in this area as are HUMPBACK WHALES. Our first RHINOCEROS AUKLET is followed by our third HORNED PUFFIN. We come upon a huge pod of PACIFIC WHITE-SIDED DOLPHINS and about a dozen or so more HUMPBACKS. It is a scene right out of David Attenborough's Blue Planet series (part of which was filmed from the boat we are on, the Point Sur Clipper). One of our participants is on his first pelagic trip. He's a local from Santa Cruz. He just shakes his head in amazement, "I had no idea it was like this in the Monterey Bay."

"Right here in your own backyard!" is my reply.

The wind from the west begins to pick up as we head offshore. A PINK-FOOTED SHEARWATER is one of several seen for the day. A small pod of NORTHERN RIGHT WHALE DOLPHINS rocket by. Offshore we find many CASSIN'S AUKLETS, most of which fly by but we get a couple on the water near the boat too. We find many flocks of RED-NECKED PHALAROPES and some of these contain dazzling alternate plumaged RED PHALAROPES.

We get about eight miles offshore to the same area where we found a Short-tailed Albatross our last trip but things are pretty dead today and the wind is building so we head back into the bay. Diligent chumming brings in many BLACK-FOOTED ALBATROSS to the back of the boat and a single NORTHERN FULMAR.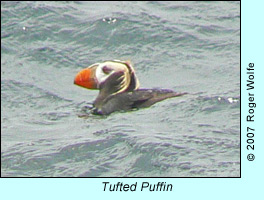 We have been seeing small flocks of COMMON MURRES throughout the day but two TUFTED PUFFINS are new for the day. Now we're starting to wonder, how many alcids we can find in a day? See Don Roberson's Monterey County Highlights webpage with photos of all the puffins at: http://montereybay.com/creagrus/MTY_2007.html

The wind is starting to paint us into a corner. Well inside the bay we find ourselves in a mass of SOOTY SHEARWATERS. It's another Blue Planet episode. Hundreds of sooties swarm all around the boat, land on the water, dip their heads below the surface to glimpse what's below and then with a flap of the wings they continue their flight underwater. Others pop out of the water and into the air. These birds are as agile underwater as they are in flight. The first-timer from Santa Cruz is incredulous again. "Wow, this is amazing".

In an effort to get out of the ever increasing wind and chop we find ourselves back at the aquarium and find the 2 HORNED PUFFINS again but wait, one of them shows a clean white face and lores! This is a different bird. HOPU #4. (We did not realize this at the time but discovered it upon later review of photos.)

We're on an alcid hunt now. We cruise past the harbor to see what we can find along the shoreline near Del Monte beach and Tim Amaral spots an ANCIENT MURRELET flying by for alcid species number 7.

We patrol the shoreline and see a small bird in close to shore but it isn't the hoped-for Marbled Murrelet. It is HORNED PUFFIN number 5!

When we get back to the dock the first timer from Santa Cruz thanks me and says, "That was an incredible trip, I'll be back!"

Also seen:

BRANT
SURF SCOTER
PACIFIC LOON
COMMON LOON
BROWN PELICAN
CALIFORNIA GULL
WESTERN GULL
GLAUCOUS-WINGED GULL
BLACK OYSTERCATCHER

HARBOR SEAL
NORTHERN FUR SEAL
SOUTHERN SEA OTTER


Roger Wolfe for Monterey Seabirds