Sunday October 15, 2006

I don't know why I bother with the weather report! Forecast is for winds from the southwest moving around to the west later in the day. Reality is winds from the northwest. Seas are not calm as predicted and we are faced with some chop.

Before leaving for the dock I check the sea surface temperature map and see that there is a plume of warm water due west from Pt. Pinos that bends southward. My plan was to head south and try to find the edge of the warm water. But as we get out of the harbor after seeing the female HARLEQUIN DUCK I discover that the wind is stiff from the northwest so that becomes our heading.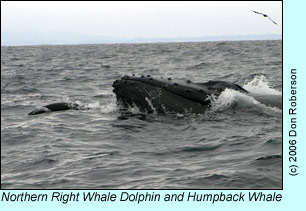 As we arrive at the Monterey Sea Canyon the depth gauge reads 8,000 feet and there is quite a bit of seabird activity comprised of mainly PINK-FOOTED SHEARWATERS. We see a number of blows up ahead and soon we are in the midst of several HUMPBACK WHALES feeding right next to boat.

The whales are not alone; there are also PACIFIC WHITE-SIDED and NORTHERN RIGHT WHALE DOLPHINS in this area along with numerous CALIFORNIA SEA LIONS.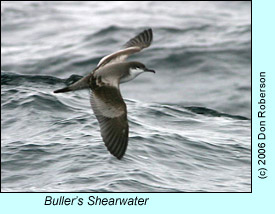 Our first SOOTY and BULLER'S SHEARWATERS zoom by and then Don Roberson and Tim Amaral spot a flyby MANX SHEARWATER. This has been a good year for them in Monterey. This bird is number 12 for the year so far. In this area we also find a small pod of SHORT-BEAKED COMMON DOLPHINS.

Moving along we come upon some RHINOCEROS AUKLETS and COMMON MURRES and even more Humpbacks. Our first of six BLACK-FOOTED ALBATROSS pays a visit as does one of many NORTHERN FULMARS.

Nine POMARINE JAEGERS, a PARASITIC and four SOUTH POLAR SKUAS put on a nice show.

By mid morning the wind has laid down so we take a hard left turn and head down the coast as far as Granite Canyon. En route a FLESH-FOOTED SHEARWATER is found off the stern and a bit later a Northern Fur Seal. The water temperature drops a degree and half.

The view down the Big Sur coast from this angle is so spectacular that it distracts us from the birding. Point Sur looks like the island it one day shall become.

We come about and begin moving north and farther inshore along Carmel Canyon and find our first BLACK-VENTED SHEARWATERS making this a six shearwater day. It's been a couple of years since these shearwaters made it this far north and it is nice seeing them again.

Directly over our heads flies a flock of PACIFIC LOONS.

Heading back for the harbor we pick up a couple of juvenile PIGEON GUILLEMOTS. On one of the smoke stacks at the Monterey Aquarium is a PEREGRINE FALCON.

We had a really great group of people on board including volunteers from the Gulf of the Farallones National Marine Sanctuary and San Jouaqin Audubon members.

Also seen:

WESTERN GULL
HEERMANN'S GULL
CALIFORNIA GULL
BROWN PELICAN
SURF SCOTER
BRANDT'S CORMORANT
EARED GREBE
BLACK TURNSTONE
COMMON LOON

HARBOR SEAL
SEA OTTER

BLUE SHARK
OCEAN SUNFISH/MOLA MOLA.


Roger Wolfe for Monterey Seabirds