Sunday October 8, 2006

I had high hopes for this one. With very capable and experienced leaders as well as my birding buddy Mike Sylvia from Massachusetts on board I woke up this morning thinking this would be the day. Alas, the weather had a plan all of its own.

The calm conditions we enjoyed over the last two weekends are no more. Today we have a swell and northeast winds to go with it.

We head right out of the harbor and find the female HARLEQUIN DUCK associating with scuba divers near the base of the coast guard jetty. There are several COMMON MURRES in this area along with our first RHINOCEROS AUKLET and a PELAGIC CORMORANT.

Our plan for the day is to get over to the north end of the bay and the area where the storm-petrels have been roosting for much of the last month. This area has had the most seabird activity of late and Mike is out for a visit in hopes of seeing his first Least Storm-petrel, as are some others on board.

Our usual skipper Richard Ternullo is on his way to Italy today so in his place is the only female skipper on the bay, Killer Whale Researcher Nancy Black.

Crossing the bay we realize that the number of SOOTY SHEARWATERS is way down from last week. They must be on their way back to the southern hemisphere islands around New Zealand or Chile. See the Tagging of Pacific Pelagics (TOPP) Feature about Sooty Shearwater migration, Small Seabird Makes Big Splash with Longest Recorded Animal Track

But as the Sooties depart it seems the NORTHERN FULMARS are arriving. We see several in many different color morphs.

It's been two weeks since we saw our last BLACK-FOOTED ALBATROSS but thanks to a bang up job of chumming by Tanner Easterla we end up with a dozen for the day.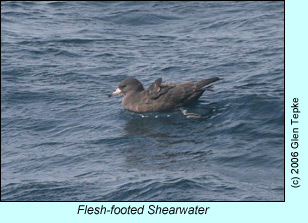 Arriving on the north end of the bay offshore of Davenport we find a large flock of BULLER'S SHEARWATERS sitting on the water. We find a few of these flocks today and sometimes there are PINK-FOOTED SHEARWATERS mixed in with them. It looks as though they are staging for migration. Sorting through our third large flock I spot a different shearwater and manage to get everyone on the FLESH-FOOTED SHEARWATER.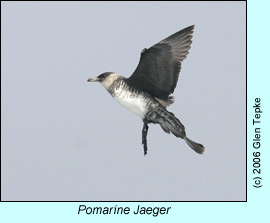 There is a lot of kleptoparastic activity going on with many POMARINE JAEGERS, a few PARASITICS and several SOUTH POLAR SKUAS.

The ever sharp eyes of Todd Easterla find two SABINE'S GULLS. Flyby loons include one COMMON and one PACIFIC. Speaking of flybys we do get some exasperatingly brief looks at three different CASSIN'S AUKLETS. We have seen hardly any this year.

In these conditions we do not find many storm-petrels except for the occasional ASHY, no sign of any flock. Too bad for Mike, he'll have to come back to Monterey another time.

The RED-NECKED PHALAROPES must have moved offshore; we see only a few but we do see a MERLIN go after one of them. Other interesting birds seen out on the bay are a flock of NORTHERN PINTAILS and a female TEAL sp. following a Common Murre.

As for marine mammals we have two HUMPBACK WHALES dive right next to the boat. We also find a mixed species pod of RISSO'S, NORTHERN RIGHT WHALE and PACIFIC WHITE-SIDED DOLPHINS. Some of these come in to ride the bow for a little up close and personal interaction with us.

Rounding out the marine mammals are CALIFORNIA SEA LIONS, HARBOR SEALS and the ever popular SEA OTTER.

Also seen:

CALIFORNIA GULL
HEERMANN'S GULL
WESTERN GULL
BRANDT'S CORMORANT
ELEGANT TERN
BROWN PELICAN
EARED GREBE

For more photographs from this trip, see Glen Tepke's website.

Roger Wolfe for Monterey Seabirds