Sunday May 21, 2006

The weather put a bit of a kibosh on Monterey Seabirds' May 21 outing. The forecast called for showers and that it did but not enough to dampen the spirits of the 25 participants and 6 leaders on board.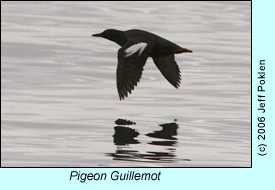 Before leaving the harbor we had our first PIGEON GUILLEMOTS. A pair of RED-NECKED PHALAROPES were found picking food items at the waterline out of the algae growing on the side of the old General Pershing moored in the harbor.

Nesting BRANDT'S CORMORANTS rule the breakwater and a single COMMON MURRE was hauled out at the end of the jetty for a nice photo opportunity.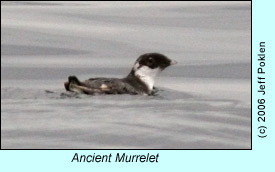 Along Cannery Row we stopped for PELAGIC CORMORANTS and both PACIFIC and COMMON LOONS. Approaching Pt. Pinos Todd Easterla spotted an ANCIENT MURRELET, which we assume is the same individual we saw last month in this same area. This time it was much more cooperative, allowing some splendid looks.

As we rounded the point the wind asserted itself, creating some chop and dictating where we could go comfortably on this day. Skipper/leader Richard Ternullo did an admirable job of keeping us from getting pounded. Nobody got seasick!

We headed south for a while, picking up SOOTY SHEARWATERS showing a lot of molt and the first of many BLACK-FOOTED ALBATROSS. The wind let up and we headed back toward the bay, finding PINK-FOOTED SHEARWATERS, a few RHINOCEROS and CASSIN'S AUKLETS and a single POMARINE JAEGER. Along a convergent break we found many alternate plumaged RED PHALAROPES, a NORTHERN FUR SEAL and a couple of bottling ELEPHANT SEALS.

We also had a total of 7 HUMPBACK WHALES and two different pods of PACIFIC WHITE-SIDED DOLPHINS.

Also:
Western Gull
California Gull
Caspian Tern


Roger Wolfe for Monterey Seabirds