Sunday, April 23, 2006

It was a three-hour tour sans Gilligan and the Skipper but in that short time we witnessed the remarkable diversity of seabirds and cetaceans that the Monterey Bay is famous for.

This was the trip held in association with the Pacific Grove Museum of Natural History to celebrate their new exhibit on the renowned collector Rollo Beck. Along with us were Beck biographer Matt James and Beck's nephew one Rollo Beck Parsons. Learn more about the trip and museum programs, and read biographical information about Rollo Beck.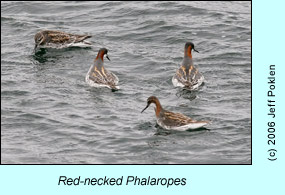 Birds worth mentioning include the first ANCIENT MURRELET reported in the bay in the last few months, a single FORK-TAILED STORM PETREL and a RED PHALAROPE in with a flock of RED-NECKED PHALAROPES.

Lots of SOOTY SHEARWATERS along the submarine canyon edge and a smattering or SHORT-TAILED SHEARWATERS still present. PINK-FOOTED SHEARWATERS are also made a good showing.

In the marine mammal department we had a nice aggregation of HUMPBACK WHALES, a couple of which came in very close to the boat. We also found a mixed species pod consisting of NORTHERN RIGHT WHALE and PACIFIC WHITE SIDED DOLPHINS.

Also seen:


PACIFIC LOON
COMMON LOON
NORTHERN FULMAR
BROWN PELICAN
BRANDT'S CORMORANT
PELAGIC CORMORANT
SURF SCOTER
BONAPARTE'S GULL
HEERMANN'S GULL (1)
CALIFORNIA GULL
WESTERN GULL
CASPIAN TERN
COMMON MURRE
RHINOCEROS AUKLET

Roger Wolfe for Monterey Seabirds