Saturday September 17, 2005

This was the trip we had been waiting for. All our leaders are aware that the odds of finding a megararity increase with every pelagic trip we take. Todd Easterla and I had been talking on the way over to Monterey that we were long overdue for a good bird.

The northwest winds were stiff and seas were about Beaufort 4 so we were going to have to work at finding birds on the wing. Seabirds live on and by the wind, they thrive on it. Seabirders on the other hand are challenged in it. Things are almost constantly on the move and you have to be vigilant.

Moving along offshore of Cannery Row we picked up a juvenile PIGEON GUILLEMOT and COMMON MURRE. These along with several RHINOCEROS AUKLETS found throughout the day would be our only alcids.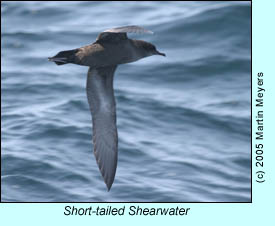 Moving off Pt. Pinos we began finding SOOTY SHEARWATERS then PINK-FOOTED and a few BULLER'S when a SHORT-TAILED SHEARWATER flew up our wake as they like to do and came in quite close to the boat for everyone to see. Don Roberson went over the finer points of distinguishing these from Sooties.

A SOUTH POLAR SKUA appeared and we ended the day with about 7 along with 3 POMARINE JAEGERS.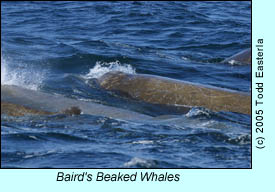 After seeing some HUMPBACK WHALES we came upon the short bushy blows of a pod of rarely seen BAIRD'S BEAKED WHALES who were doing a whale's version of panting at the surface after a twenty minute dive into the depths of the Monterey Submarine Canyon. Skipper Richard Ternullo pulled the boat into position for the best looks I've ever had of these strange whales.

After crossing over the Monterey Submarine Canyon we began seeing ASHY STORM PETRELS dancing over the water. Some of the folks on board were getting frustratingly brief looks and I worried they might mutiny. Fortunately we finally located storm-petrels sitting on the water off Davenport in Santa Cruz county waters. In these large flocks were plenty of BLACK STORM-PETRELS and about a dozen LEAST STORM-PETRELS too. We enjoyed nice, comparative looks at all three in flight around the boat.

Shortly after mid day we turned and began heading back. This is the time when those on board typically begin to nod and more often than not this is when we find the bird of the day. We are in the midst of a great many shearwaters arcing about and busy sorting through them when out comes the yell from Todd Easterla of, "DARK-RUMPED PETREL!" Now split, these California birds are presumed to be the HAWAIIAN PETREL rather than the Galapagos race. For a discussion by Don Roberson of this id with lots of good photos, see http://montereybay.com/creagrus/DRPE_id.html .

Todd yelled so loud that he speculated afterwards that he had frightened the bird away from the boat. It arced up and away from the boat at an incredible rate of speed but we were able to get everyone on it as it arced up again. There was a lot of hooting and high fives going around as the bird disappeared into the distance. We tried to chase it but it flew right into the teeth of the wind. We laid down a fish oil slick but this only attracted a few shearwaters and our only NORTHERN FULMAR of the day.

Don Roberson was one happy camper with new Monterey County bird number 456. This was the third record for Monterey. Three out of our four leaders had seen one before. It was a lifer for me and almost everyone else on board.

Unfortunately it all happened so fast no one was able to get a photo but Don put together a description of the bird with a sketch including photos of the BAIRD'S BEAKED WHALES on his website at http://montereybay.com/creagrus/CA-MtyBaySep05.html .

Also seen:

RUDDY TURNSTONE
BRANDT'S CORMORANT
PELAGIC CORMORANT
BROWN PELICAN
CALIFORNIA GULL
HEERMANN'S GULL
WESTERN GULL
RED-NECKED PHALAROPE

PACIFIC WHITE-SIDED DOLPHIN
NORTHERN RIGHT WHALE DOLPHIN
CALIFORNIA SEA LION
NORTHERN FUR SEAL
SEA OTTER


Roger Wolfe for Monterey Seabirds