Friday September 2, 2005

Our small group of 14 seabirders made for comfortable conditions on board the 50-foot Pt. Sur Clipper. Seas were relatively calm and winds were light. This was our third trip in a row where no one got seasick.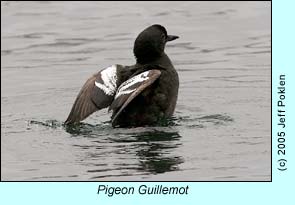 Out of the harbor we picked up the first migrant COMMON LOON for the year flying overhead and saw a second one a bit later. After getting nice views of PIGEON GUILLEMOTS, PELAGIC CORMORANTS and COMMON MURRES along Cannery Row we moved out past Pt. Pinos and came upon large flocks of SOOTY SHEARWATERS sitting on the water. There were numerous PINK-FOOTS too and as we moved farther out in the bay we added many BULLER'S SHEARWATERS to the day's list.

CASSIN'S AUKLETS were boat shy as usual and we had only brief glimpses of a few flying away from the boat. The same can be said for XANTUS' MURRELET of which we were able to id one of two murrelets seen to species. RHINOCEROS AUKLETS were spread throughout the bay.

Approaching a fishing boat bringing in its catch we found 15 BLACK-FOOTED ALBATROSS feeding on the bycatch and had many others come by to check out the chum.

Once over the submarine canyon we began finding storm-petrels. These were not in a dense flock but individual sightings. A single BLACK STORM PETREL flew toward the back of the boat and we counted about a dozen ASHIES on the day.

Just before crossing the county line into Santa Cruz waters we had a few SABINE'S GULLS. Once in SCZ waters we had a flock of 7 COMMON TERNS fly right up to the stern where volunteer chummer Phil Brown was doing a bang-up job of keeping the gulls intact.

3 SOUTH POLAR SKUAS put in brief appearances and we just missed the skua slam with sightings of both POMARINE and PARASITIC JAEGERS.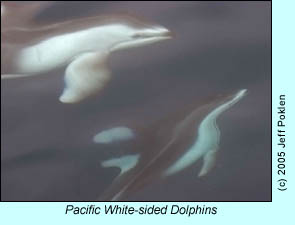 Marine mammal sightings were of HUMPBACK WHALE, PACIFIC WHITE-SIDED, NORTHERN RIGHT WHALE and RISSO'S DOLPHIN. We observed four pinnipeds: HARBOR SEAL, ELEPHANT SEAL and NORTHERN FUR SEAL and of course CALIFORNIA SEA LION.

Also seen:

BROWN PELICAN
BRANDT'S CORMORANT
PELAGIC CORMORANT
SURF SCOTER
HEERMANN'S GULL
CALIFORNIA GULL
WESTERN GULL
ELEGANT TERN
COMMON MURRE
RED-NECKED PHALAROPE
BLACK TURNSTONE


Roger Wolfe for Monterey Seabirds