Friday August 26, 2005

Right out of the harbor we find a large pod of LONG-BEAKED COMMON DOLPHINS welcoming us into bay waters. We get teased over the radio by other skippers who wonder what the heck is on the roof of the Pt. Sur Clipper. Our skipper, Richard Ternullo replies in a matter of fact way that it is a Coyote Bush (Baccharis). We've mounted the shrub on the roof as a refuge for any migrant passerines that may have lost track of land in the fog.

Just off Pt. Pinos we encounter large flocks of SOOTY SHEARWATERS but do not encounter any other shearwater species until we are a few miles west and pick up a couple of PINK-FOOTS whose numbers increase as we go farther west. At one point we find a feeding flock that is half Pink-foots half Sooties.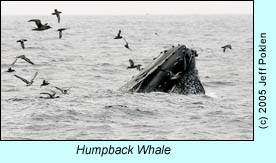 This flock has some COMMON MURRES and RHINOCEROS AUKLETS in it too. The whole scene is right out of the TV series Blue Planet. A large bait ball is being attacked by the seabirds as the fish are driven to the surface by a HUMPBACK WHALE. PACIFIC WHITE-SIDED and NORTHERN RIGHT WHALE DOLPHINS are also involved in this frenzy.

At one point the Humpback does a lateral lunge right across our bow! The birders up at the front have only to look down to see its gaping maw go by.

We see several flocks of COMMON TERNS in flight and see only a few BULLER'S SHEARWATERS and CASSIN'S AUKLETS.

Moving into Santa Cruz waters we see a FLESH-FOOTED SHEARWATER to make a four-shearwater trip and find a few SABINE'S GULLS sitting on the water. We also enjoy some nice comparative looks at interacting POMARINE and PARASITIC JAEGERS. BLACK-FOOTED ALBATROSS are numerous.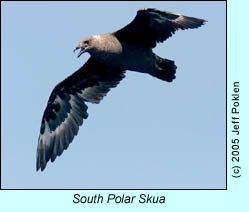 Maybe the big thrill on the day is a very hungry SOUTH POLAR SKUA circling the boat repeatedly, worrying the gulls and actually taking some of the anchovies Tanner Easterla is hurling over the stern while his dad Todd eggs him on as he fires away with his camera. The bird comes right up to the bow and almost takes the fish right out of Tanner's hand and we hear it vocalize several times.

We are surprised by how meek this series of soft whistles is for such an aggressive bird. Richard Ternullo, who has been leading trips for more than thirty years, had never heard a skua before today.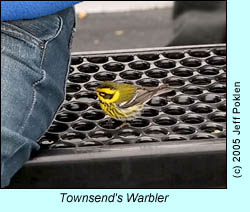 The Coyote shrub atop the boat is a welcome sight to a couple of lost TOWNSEND'S WARBLERS who struggle to stay aloft over the water. They land in the shrub and then forage around the boat looking for bugs. They eventually settle into the shrub until a BROWN-HEADED COWBIRD comes by the boat and scares them out. The cowbird keeps going but now the warblers are tuckered out and when they make it back on board they land on some of us and we manage to capture them. We keep them in my camera case (which they make quite a mess in).

Back on shore we gather in the parking lot to take photos of Tanner releasing the warblers. When they fly off everyone applauds.

Also seen:

RUDDY TURNSTONE
BLACK TURNSTONE
BRANDT'S CORMORANT
PELAGIC CORMORANT
BROWN PELICAN
WILLETS
HEERMANN'S GULL
WESTERN GULL
CALIFORNIA GULL
PIGEON GUILLEMOT
ELEGANT TERN
RED-NECKED PHALAROPE

RISSO'S DOLPHIN
HARBOR SEAL
CALIFORNIA SEA LION
SEA OTTER

Roger Wolfe for Monterey Seabirds