Sunday August 14, 2005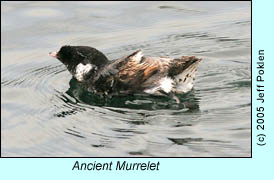 Birders were making ticks before we even boarded the Pt. Sur Clipper. A scrappy little ANCIENT MURRELET put on a display of its underwater flying abilities right under the wharf. Once we were on board, our skipper Richard Ternullo sidled the boat right up to this little guy much to the delight of the photographers on board.

The other interesting summering bird in the harbor was easily found in the company of a pair of Surf Scoters; a female HARLEQUIN DUCK near the Coast Guard jetty.

We were on a mission today in search of the Short-tailed Albatross reported on Friday. I told our two chummers Tanner Easterla and Big Sur Ornithology Lab intern Brett Tryon that I wanted to see a flock of gulls at the stern at all times and they did a brilliant job of that. They did succeed in attracting 45 BLACK-FOOTED ALBATROSS but not the hoped for Short-tailed. Oh well.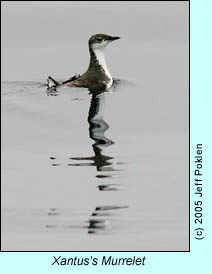 New arrivals in bay waters that weren't reported until today were numerous BULLER'S SHEARWATERS and 20 XANTUS'S MURRELETS (all scrippsii). We ended up with a four shearwater day when the sharp eyes of Todd Easterla picked up a flyby MANX SHEARWATER (rare on the west coast).

It seems the large flocks of SOOTY SHEARWATERS we're used to seeing in the northern portion of the bay in Santa Cruz County have all moved to the south bay off Cypress Point. Lots of PINK-FOOTS around too. SABINE'S GULLS were also seen in good numbers.

Other birds of note were several COMMON TERNS we found floating on pieces of kelp or driftwood that we were able to closely approach and clinch the ID. We found a single NORTHERN FULMAR.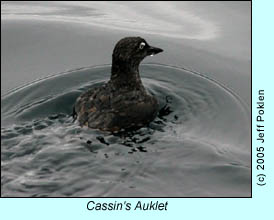 In the alcid department we saw only a few CASSIN'S AUKLETS and RHINOCEROS AUKLETS and found only one father-chick pair of COMMON MURRES. These three species of seabirds suffered a widespread nest failure in Northern California this year that is attributed to an apparent disruption in the upwelling cycle that fuels the food chain off our coastline.

Cetaceans did their best to upstage the seabirds. We saw 2 MINKE WHALES, 7 BLUES and 5 HUMPBACKS, with one breaching all the way out of the water. We also encountered NORTHERN RIGHT WHALE, RISSO'S and PACIFIC WHITE-SIDED DOLPHINS and a few DALL'S PORPOISE.

We were surprised to find a dozen NORTHERN FUR SEALS. We find these now and then but a dozen is quite a showing.

Oddball sighting was of 2 MARBLED GODWITS that came in to check out the chum at the back of the boat about 10 miles off Pt. Pinos.

Conspicuously absent were the skua clan of which we saw none.

Thanks go out to our fearless leaders: Don Roberson, Dan Singer, Todd Easterla and Richard Ternullo and to our hardworking chummers Tanner Easterla and Brett Tryon.

Also seen:
RED-NECKED PHALAROPE
BROWN PELICAN
BRANDT'S CORMORANT
PELAGIC CORMORANT
HEERMANN'S GULL
WESTERN GULL
CALIFORNIA GULL
PIGEON GUILLEMOT
BLACK TURNSTONE

Roger Wolfe for Monterey Seabirds