Sunday Sept. 21, 2003 Monterey Seabirds Albacore Grounds

I hate to say it but our albacore grounds trip on Sept. 21, well let's just say the words slow and dead were heard frequently on board that morning. But we heard that only from the locals and regulars. Folks from out of the area were delighted with what we saw. We headed SW out of the bay to an underwater topographic feature dubbed "the Weenie" by local fisherman. En route we had plenty of SOOTY, BULLER'S and PINK-FOOTED SHEARWATERS and a couple of POMARINE JAEGERS along with the first of 6 SOUTH POLAR SKUAS we would see on the day.

Not much happening around the Weenie so offshore we headed looking for same rapid temperature changes or breaks. We did find some good breaks but no birds or even marine mammals. We got out about 50 miles and did see quite a few LONG-TAILED JAEGERS (20 total) but not much else. It can be like a desert out in that blue water and that was the case today.

Around mid day one of our regulars came up to me and pointed out that I had not passed out the checklists like I usually do before we get underway (the early start threw me, I guess) and he asked if that was because we didn't need them today (ha, ha). So I passed around the checklists hoping they would bring us some luck.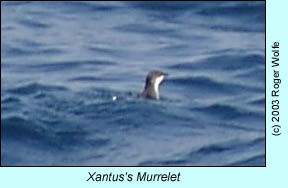 They did (or maybe it was just getting back into the Monterey Bay). We started seeing ASHY STORM-PETRELS and picked up a PARASITIC JAEGER to complete the skua slam. We then found our birds of the day. A pair of XANTUS'S MURRLETS (scrippsii) dove repeatedly right next to the boat for some close study. Only 1 BLACK-FOOTED ALBATROSS and BLACK-VENTED SHEARWATER on the day.

Also 25 CASSIN'S AUKLETS and 50 RHINOCEROS AUKLETS. Once inside the bay we also found 5 BLUE WHALES, 5 HUMPBACK WHALES and 40 PACIFIC WHITE-SIDED DOLPHINS.


Monday Sept. 22 Monterey Bay

The weather forecast was for wind from the SW and warm temperatures. Things looked quite promising from the dock. We got word from the rock fishing fleet that there were numerous whales and seabirds in the vicinity of Cypress Point but as we hit Pt. Pinos we came upon SE winds and a very dense marine layer, a.k.a. fog. So much for forecasts. But we did manage to find some PARASITIC JAEGERS and SOOTY, PINK-FOOTED and BULLER'S SHEARWATERS.

The fishing fleet initially reported they were in fog-free conditions but as we tried to make our way to them we got word that they too were now fogbound. So we made a run for the Santa Cruz side of the bay and the fog ran with us. Someone on board said it was like birding by braille. We blundered upon a pair of BLUE WHALES. If they hadn't surfaced right next to the boat we never would have seen them.

We listened over the radio as one captain was trying to find the Santa Cruz yacht harbor and kept going right by it in the dense fog. Our Skipper Richard Ternullo called up his boat mechanic in Moss Landing for a weather check. Foggy there too. A couple of NORTHERN FULMARS and a few POMARINE JAEGERS went by.

In the vicinity of Soquel Canyon we had a brief visitation by a BLACK-FOOTED ALBATROSS and a single ASHY STORM-PETREL. We laid down a fish oil slick hoping maybe we could attract some birds by the smell, but no luck. It's hard enough to find the storm-petrel flock in clear conditions!

Finally late in the day we broke out of the fog around Marina and found some PIGEON GUILLEMOTS. Other alcids seen on the day were RHINOCEROS AUKLETS and a CASSIN'S AUKLET. Along the long stretch of beach at the former Ft. Ord we found a few BOTTLENOSE DOLPHINS.


Our leaders Don Roberson, Stephen F.Bailey and Dan Singer deserve medals for two solid days leading and enduring the slow seabirding. But as Steve said, "Pelagics can be like that sometimes."


Roger Wolfe for Monterey Seabirds