Sunday August 10, 2003

A great group of mainly local birders showed up for the August 10 Monterey Seabird trip. With clear and sunny skies, we could see from Monterey to Santa Cruz to Moss Landing. It was T-shirt weather on the bay. We were hoping to get offshore to the area where the water temperature breaks, but stiff northwest winds came up and dashed our hopes for reaching these waters favored by Xantus's and Craveri's murrelets. We'll try again next month on our Albacore Grounds trip.

Flocks of migrating RED PHALAROPES were new on the scene. Skipper Richard Ternullo said these were the first he's seen this summer. RED-NECKED PHALAROPES were seen as well, along with some mixed flocks for a nice study of difference in size between these species. We also had our first BULLER'S SHEARWATERS (3), PARASITIC and POMARINE JAEGERS and NORTHERN FULMARS for the season. Bird of the day was a distant FLESH-FOOTED SHEARWATER.

PINK-FOOTED SHEARWATER numbers jumped from 2 seen last month to 65 for the day. SABINE'S GULLS numbered 100 and BLACK-FOOTED ALBATROSS dropped to 30.

Absent were Cassin's Auklets, which had numbered in the hundreds only four weeks ago. 10 drab looking RHINOCEROS AUKLETS were seen and a single PACIFIC LOON.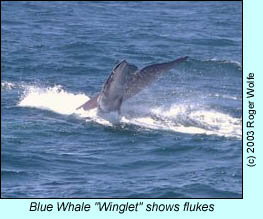 The cetacean show was replete with very close BLUE WHALES including an individual that Richard recognized by its distinctive dorsal fin. Dubbed "Winglet", this whale -- unlike most blues -- often raises its flukes upon diving. We had our cameras ready and as if on cue ol' Winglet dove and there were the flukes!

Breaching Humpbacks, backflipping Pacific White-sided, bow riding Northern Right Whale and exuberant Risso's Dolphins rounded out the performance.

Trip list for August 10, 2003

Pacific Loon 1
Black-footed Albatross 3
Northern Fulmar 2
Pink-footed Shearwater 65
FLESH-FOOTED SHEARWATER 1
Sooty Shearwater 4,000
Red Phalarope 80
Red-necked Phalarope 40
Pomarine Jaeger 3
Parasitic Jaeger 2
Pelagic Cormorant
California Gull
Heerman's Gull
Sabine's Gull 100
Common Murre 125
Pigeon Guillemot 10
Rhinoceros Auklet 10
Black Turnstone 6

Mammals:

Blue Whale 10
Humpback Whale 10
Pacific White-sided Dolphin 300
Risso's Dolphin 200
Northern Right Whale Dolphin 300
Harbor Seal
California Sea Lion
Steller Sea Lion 1
California Sea Otter


Roger Wolfe for Monterey Seabirds