Saturday October 24, 2009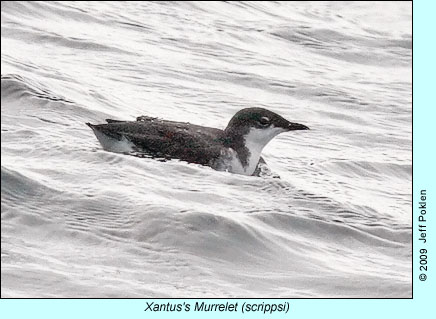 The darn northwest wind that has been relentless this fall season made for another rough trip. Seas were Beaufort 5 + and the wind was a stiff 15-20 knots and yet we still had fog. The windshield wiper on my window was in use a good part of the morning as we tried to push offshore. Once we got tired of getting bumped around we headed for the Soquel Canyon where the wind and seas were kinder being in the lee of the Santa Cruz Mountains. The great thing about the Monterey Bay is that you can find shelter from the prevailing northwest winds; there is someplace to find sanctuary.

Shearwaters love the wind so it was no big deal for them and we had a nice showing of all the expected species: PINK-FOOTED, BULLER'S, BLACK-VENTED and SOOTY.

Given the rough seas the three XANTUS'S MURRELETS we spotted were lucky finds.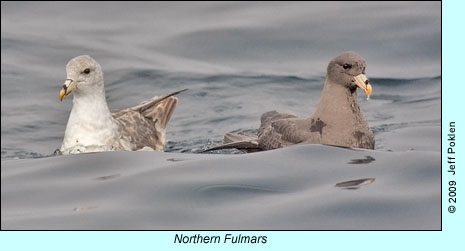 A few BLACK-FOOTED ALBATROSS were seen but the procellarid of the day were the NORTHERN FULMARS that seemed to be in view almost continuously. I told our group we were having a special on them this day.

Two RED PHALAROPES were all by their lonesomes.

A single flyby WHITE-WINGED SCOTER was the first of the season.

We also had a nice showing of gulls with 8 species recorded. Noteworthy were single first cycle MEW and THAYER'S GULL.

Off of Pt. Pinos we had 4 migrating PIGEON GUILLEMOTS.

Inside the harbor we found a single PELAGIC CORMORANT and the returning male HARLEQUIN DUCK.


Also seen:
PACIFIC LOON
COMMON LOON
BRANDT'S CORMORANT
SURF SCOTER
BLACK TURNSTONE
POMARINE JAEGER
HEERMANN'S GULL
CALIFORNIA GULL
WESTERN GULL
GLAUCOUS-WINGED GULL
COMMON MURRE
CASSIN'S AUKLET
RHINOCEROS AUKLET

Marine Mammals:
PACIFIC WHITE-SIDED DOLPHIN
RISSO'S DOLPHIN
NORTHERN RIGHT WHALE DOLPHIN
CALIFORNIA SEA LION
SEA OTTER


| | | |
| --- | --- | --- |
| | | See the Google Earth image showing locations of points along the track in red and county boundaries in white (opens in new window). |

See Jeff Poklen's photo gallery of this trip at: www.pbase.com/jpkln/24_oct_2009

Roger Wolfe for Monterey Seabirds