Saturday September 26, 2009 - Sacramento Audubon Group Charter Seabird Cruise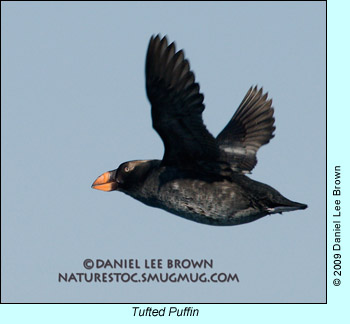 Our boatload of Sacramento birders scared the morning fog away, making for a lovely day on the Monterey Bay. This was a charter for Sac Audubon and participants ended up paying $66 per person. I really enjoy the charters as everyone is already acquainted with one another from prior outings in the field and there is a friendly feeling on the boat.

We headed for Soquel Canyon and the area where we saw Killer Whales last weekend. On the way we found an area thick with birds sitting on the water. We were thinking kill but the reality was krill. We got a request from a 7th grade teacher on board for some krill. Our skipper Mike Johns procured the krill net that we set adrift at our stern for a few minutes and I brought it up stuffed with krill. Everyone got to see the little euphausiids that have a biomass twice that of humans. But what is this weird yellow stuff in the net? That would be popcorn from our chum being dispensed by Associate Editor of Birding Magazine Noah Stryker and his friend Natalya from Colombia.

Seabird highlights were a FLESH-FOOTED SHEARWATER and a TUFTED PUFFIN that circled the boat several times in flight. Todd Easterla spotted a SHORT-TAILED SHEARWATER and we also had a few sightings of BLACK-VENTED SHEARWATERS.

Strangest bird was the female GREEN-WINGED TEAL that landed amongst the gulls. We all told Natalya from Colombia that this was a really strange place to get her life GWTE!

The Google map below is an approximation of the route, as I fouled up something with my hand held GPS.


Species totals for
Monterey County/Santa Cruz County
Northern Pintail
0/7
Green-winged Teal
0/1
Peregrine Falcon
1/0
harbor
Merlin
2/0
harbor
Northern Fulmar
0/2
Surf Scoter
25/0
Pacific Loon
3
Black-footed Albatross
5/5
Northern Fulmar
3/1
Pink-footed Shearwater
48/45
Flesh-footed Shearwater
0/1
Buller's Shearwater
2/2
Sooty Shearwater
180/90
Short-tailed Shearwater
1/0
Ashy Storm-Petrel
12/40
Black Storm-petrel
0/1
Brandt's Cormorant
30/5
Red-necked Phalarope
60/40
Sabine's Gull
1/0
Heermann's Gull
90/40
Western Gull
325/135
California Gull
200/55
Common Tern
1/0
Pomarine Jaeger
6/4
Parasitic Jaeger
3/1
Common Murre
70/400
Cassin's Auklet
5/5
Rhinoceros Auklet
60/125
Tufted Puffin
0/1
Marine Mammals
Humpback Whale
Risso's Dolphin
Long-beaked Common Dolphin
Harbor Seal
California Sea Lion
Elephant Seal
Sea Otter
| | | |
| --- | --- | --- |
| | | See the Google Earth image showing approximate locations of points along the track in red and county boundaries in white (opens in new window). |
See Dan Brown's photo gallery of this trip

Roger Wolfe for Monterey Seabirds