Sunday August 30, 2009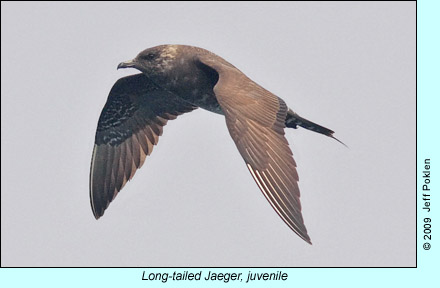 As my carpool approached Sand City I sarcastically said to Ken Peterson and Jeff Poklen, " Looks like good conditions." Kenneth looked at me like I was nuts. Fact was we couldn't even see the bay so thick was the fog. "I don't mind the fog, what I really hate is when it is windy AND foggy. That is just wrong," I added.

Throw in a good 8-10 foot swell to go with it and that was our weather for Aug. 30. Skipper Richard Ternullo described it to the other skippers over the radio as "NFG". A bit unusual for August.

When Richard gave our lat and long numbers to the other boats on the bay all of them asked the same question. "What the heck are you doing out there?"

"Birding," he replied, enough said.

Given the conditions with a strong 15-25 knot WNW winds we headed straight for Soquel Canyon and the lee of the Santa Cruz mountains. From there Richard made a valiant effort to get us out to the mouth of the Monterey Bay. We got right up to the edge of the whitecaps traveling at 4 knots into the wind. Beaufort 4 plus.

All of the regulars and spotters knew that this location with this weather was prime for seeing a pterdroma and we all were present and focused on the moment at hand. I've never seen Sooty Shearwaters arc that high before. It was midday but none of us was tempted by lunch, lest we miss something. We worked it hard but after an hour of crabbing into the wind we had nothing to show for it but the thrill of trying . We turned around to get the wind at our back to the relief of those hanging over the rail. It was a tough day on the sea.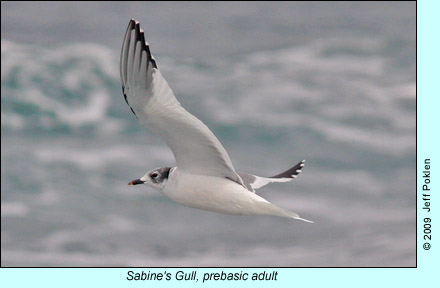 Much of the first part of the day visibility was very limited but it did clear out just before midday. We sorted through numerous flocks of SOOTY SHEARWATERS sitting on the water. Usually we find other shearwater species in with them but not today. In fact we did not even find a PINK-FOOTED SHEARWATER until mid-day and we only saw a handful of BULLER'S SHEARWATERS.

At 12:30 p.m. we started seeing quite a few BLACK STORM-PETRELS so we laid a cod liver oil slick and sat on it for a while. Soon ASHY STORM-PETRELS started appearing too and once again the slick attracted quite a few LONG-TAILED JAEGERS but not in the same numbers as the last two weeks. But once again the trip was a jaeger study tour with a SOUTH POLAR SKUA making for the slam.

Shortly after returning to Monterey County (see map for the day with county lines included below) Tim Amaral spotted a WILSON'S STORM-PETREL that passed very close to the boat so everyone could see.

The other trip highlight was the HUMPBACK WHALE that breached twice right in front of us.

Other marine mammals:
Sea Otter
California Sea Lion
Harbor Seal
Pacific White-sided Dolphin
Risso's Dolphin

Species list: Monterey / Santa Cruz Counties

| | | | |
| --- | --- | --- | --- |
| | Surf Scoter | | 1/0 |
| | Pacific Loon | | 3/0 |
| | Black-footed Albatross | | 20/15 |
| | Northern Fulmar | | 9/7 |
| | Pink-footed Shearwater | | 25/15 |
| | Buller's Shearwater | | 3/1 |
| | Sooty Shearwater | | 2000/750 |
| | Wilson's Storm-Petrel | | 1/0 |
| | Ashy Storm-Petrel | | 9/7 |
| | Black Storm-Petrel | | 3/9 |
| | Brown Pelican | | 5/0 |
| | Brandt's Cormorant | | 25/0 |
| | Red-necked Phalarope | | 30/27 |
| | Red Phalarope | | 3/0 |
| | Sabine's Gull | | 12/15 |
| | Heermann's Gull | | 45/20 |
| | Western Gull | | 100/30 |
| | California Gull | | 90/15 |
| | Common Tern | | 1/1 |
| | South Polar Skua | | 1/0 |
| | Pomarine Jaeger | | 12/14 |
| | Parasitic Jaeger | | 7/3 |
| | Long-tailed Jaeger | | 46/38 |
| | jaeger sp. | | 10/5 |
| | Common Murre | | 50/75 |
| | Pigeon Guillemot | | 4/0 |
| | Cassin's Auklet | | 15/13 |
| | Rhinoceros Auklet | | 20/20 |
| | | |
| --- | --- | --- |
| | | See the Google Earth image showing locations of points along the track (opens in new window). |
See Jeff Poklen's photo gallery of this trip at: www.pbase.com/jpkln/gallery/30aug2009

Roger Wolfe for Monterey Seabirds