Sunday October 28, 2007

With 16 on board as participants we have little trouble finding the pair of HARLEQUIN DUCKS just off the end of the coast guard jetty. I wonder how many thousands of dollars of cameras and lenses are on the boat today. A small group like this is a photographer's dream.

Whereas yesterday we headed south, today we opt to see what is happening to the north. Soon we come upon NORTHERN FULMARS which we will have in view almost continually throughout the day.

Thanks to our young chummers Tayla and Amelia the gull freaks on board are having a grand time of it. Not exactly rare but seldom seen on our pelagic trips are single MEW and RING-BILLED GULL. We will record 9 species before the day is done with SABINE'S the biggest prize and two BLACK-LEGGED KITTIWAKES, the first of the season.

As can happen on a pelagic trip, we go through some lengthy stretches where we see very little. Crossing over the county line into Santa Cruz waters we're wondering where all the birds are. Some of our spotters and participants are starting to worry but our skipper Richard Ternullo must have a sixth sense because he just keeps heading north over the series of canyons referred to as "the Fingers."

We've been seeing the occasional SOOTY and PINK-FOOTED SHEARWATERS and finally we find a flock of birds sitting on the water that are not fulmars but a mixed flock with 5 BULLER'S SHEARWATERS amongst them.

Soon after Richard spots a huge mixed pod of NORTHERN RIGHT WHALE and PACIFIC WHITE-SIDED DOLPHINS and as is often the case, where we find dolphins we find seabirds. A FLESH-FOOTED SHEARWATER flies in to see what the gulls are after at the back of the boat. Todd Easterla gets on a SHORT-TAILED SHEARWATER to bring our total to 5 shearwater species on the day.

A single ASHY STORM-PETREL is the only one seen all day but there are still quite a few BLACK-FOOTED ALBATROSS present in this area.

POMARINES are our only jaeger but we do see a few SOUTH POLAR SKUAS. In some areas we find both RED and RED-NECKED PHALAROPES along convergent lines.

Lots of arriving PACIFIC and COMMON LOONS are expected but the RED-THROATED LOONS that pass by are a bit of a surprise as they are seldom seen on our pelagic trips.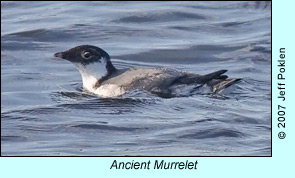 We find a few remaining PIGEON GUIILLEMOTS early on. A few CASSIN'S AUKLETS are here and there. We find RHINOCEROS AUKLETS and COMMON MURRES throughout the day but the alcid prize for the day is the pair of ANCIENT MURRELETS off Pt. Pinos on the way back in.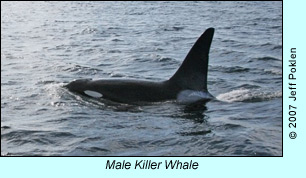 We cross paths with some HUMPBACK WHALES but the highlight of the trip for many is an adult male KILLER WHALE. We initially see his tall dorsal fin in the distance but eventually we get closer and the animal known as "Lonesome George" comes up next to the boat and everyone on board says, "WOW!" in unison.

Also seen:

WESTERN GREBE
CLARK'S GREBE
EARED GREBE
BROWN PELICAN
BRANDT'S CORMORANT
PELAGIC CORMORANT
SURF SCOTER
BONAPARTE'S GULL
HEERMANN'S GULL
WESTERN GULL
GLAUCOUS-WINGED GULL
THAYER'S GULL
ELEGANT TERN
BLACK TURNSTONE

DALL'S PORPOISE
HARBOR SEAL
CALIFORNIA SEA LION
NORTHERN FUR SEAL
NORTHERN ELEPHANT SEAL
SOUTHERN SEA OTTER


For additional photos, see Jeff Poklen's photo gallery for this trip.

Roger Wolfe for Monterey Seabirds