Sunday October 14, 2007


"To the human mind, the wanderings and life histories of pelagic animals remain mysterious.

There are no experts or masters, just students. It is as it should be."

Rich Stallcup -- Ocean Birds of the Nearshore Pacific
Our trip this morning is sold out. There are 25 participants on board. I can't imagine having more.

Today we get underway at a very civilized time of day -- 7:30. The sun is shining and the wind is light as we cruise along the breakwater and then Cannery Row pointing out PIGEON GUILLEMOTS, BLACK TURNSTONES, BRANDT'S CORMORANTS, CALIFORNIA SEA LIONS and EARED, WESTERN and CLARK'S GREBES. Both GREAT and SNOWY EGRETS are floating on the kelp canopy. We find a RHINOCEROS AUKLET and SURF SCOTERS.

Both PACIFIC and COMMON LOONS are seen flying overhead. It really feels like fall; there's a bite to the wind.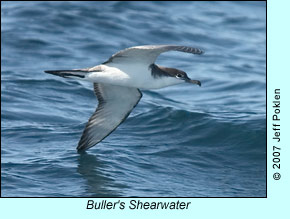 Moving beyond Pt. Pinos and into the fog we start seeing the first of many NORTHERN FULMARS and soon add PINK-FOOTED, SOOTY and BULLER'S SHEARWATERS to the mix. Richard Ternullo pilots the boat to an area where we found Humpback Whales and a lot of shearwater activity yesterday but today we find very little activity. We head north toward the area called "the fingers", a series of sea canyons north of Santa Cruz where the storm-petrel flocks have been found recently but we find no sign of them. Yesterday we found them scattered offshore. I'm not going to sugar-coat things; the level of activity is slow.

We do pick up a few POMARINE JAEGERS and SOUTH POLAR SKUAS. We see a RED PHALAROPE or two but these are few and far between. It probably would not seem so slow had yesterday's trip not been so active.

There are a few BLACK-FOOTED ALBATROSS that come in to see why the gulls are following us, thanks to diligent chumming by Tanner Easterla and Max Baer. We get a fleeting glimpse at small flocks of CASSIN'S AUKLETS flying away.

Finally a single FLESH-FOOTED SHEARWATER wakes everyone up. We cross paths with some PACIFIC WHITE-SIDED and NORTHERN RIGHT WHALE DOLPHINS.

We've been wondering where all the COMMON MURRES have been hiding and as we come to Soquel Canyon we answer that question, they are all over the place.

Before we know it we're back in Monterey County waters. A few miles north of Pt. Pinos I'm thinking to myself that this is one of those quiet days. I'm at the stern with Todd Easterla and he calls my attention to a Pink-footed Shearwater crossing our wake.

"Look at this Pink-foot, it looks darker on the underside."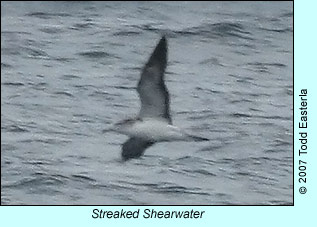 I'm looking at the bird when Todd stutters and says, "Look at the bird right behind it! STREAKED SHEARWATER." We both start yelling, "STOP THE BOAT!"

We're yelling out directions and pointing out the bird. "Are you guys seeing this bird?" Most of the murmuring behind me sounds like yes. I keep calling out where the bird is, keeping my bins on it and ask if Dan is seeing it. Dan Singer is right behind me saying yes. It's nice to have the Chairman of the California Bird Records Committee on board as a spotter today. Todd has the presence of mind to snap some photos.

The Streaked shows no interest in us and keeps on its way. Richard turns the boat in the direction it flies and we get some cod liver oil in the water but the bird is gone. There is a lot of high fiving going around.

While we are looking at Todd's photos on the back of his digital camera and seeing that he's managed a record shot Todd says, "It's like Rich Stallcup told me a long time ago. You got to work it at the end of the day on pelagic trips because that's when the rarities show up." Enough said.

Also seen:
Heermann's Gull
Western Gull
Elegant Tern
Forster's Tern
Red-necked Phalarope
Black Turnstone

Harbor Seal
Sea Otter

Blue Shark
Ocean Sunfish

For additional photos, see Jeff Poklen's photo gallery for this trip and the October 13 trip.

Roger Wolfe for Monterey Seabirds