Sunday September 24, 2006

I'm always amazed at how things can change so dramatically in the Monterey Bay. I'm not just referring to the wind and swell but to the seabird activity as well. Fortunately the weather was much nicer than the previous weekend, no wind and the swell at 1-2 feet. It was so still that we had flies landing on us when were several miles from land and under power. Days like today are the perfect conditions locating storm-petrel flocks.

After a spin through the harbor we cruised along the Coast Guard jetty to point out the numerous California Sea Lions and BRANDT'S CORMORANTS and finding a few BLACK TURNSTONES and a single SURFBIRD. Much to our surprise we spotted a pod of RISSO'S DOLPHINS just outside the harbor. They are typically found in much deeper waters. A single BOTTLENOSE DOLPHIN swam nearby.

We picked up a few EARED GREBES, PIGEON GUILLEMOTS, a RHINOCEROS AUKLET and COMMON MURRES with ELEGANT TERNS flying overhead.

We then began our transect of the bay. It was very quiet birdwise, a SOOTY here, a PINK-FOOTED there. Nearing the county line we came upon a megapod of marine mammals comprised of three species of dolphins: NORTHERN RIGHT WHALE, RISSO'S and PACIFIC WHITE-SIDED. This pod numbered in the thousands, stretching across the water for a great distance. Dolphins like wildebeests on the Serengeti plains. One of my favorite things is looking down from the front of the boat and right into the blowholes of dolphins riding the bow listening to them breathe. What I would give to swim like that!

Crossing into Santa Cruz county waters we finally found a few BULLER'S sitting on the water and began seeing a lot of bird activity up ahead. Lots of gulls flying about: HEERMAN'S, CALIFORNIA and WESTERN with SOOTIES and PINK-FOOTEDS low on the water. A look at the fish finder revealed tons of bait below the surface.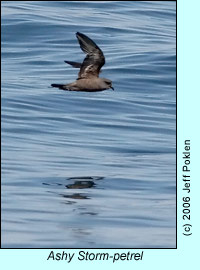 Moving up the coast we began seeing ASHY-STORM PETRELS off Wilder State Park and they increased in number as we moved north until we were seeing them all over the place and then we found a flock of sitters! There were two flocks and the larger one consisted of about a thousand birds and the second was slightly smaller. We estimated there was one BLACK STORM-PETREL for every 10 ASHY.

Poring through the flock making sure everyone was seeing the BLACKS we found a WILSON'S and then I saw a storm-petrel that banked so I could see it ventrally. It was unlike any of the others we were observing. It appeared to have a white belly. I started screaming, "Look at this bird straight out at 9 o'clock with a white belly!" I'm trying to get an eyeful and get the other spotters and participants on it. Unfortunately only one other person saw it as it banked.

Using my new 12X vibration reduction bins is proving to be problematical. I'm seeing birds farther away and in greater detail than others on board. My friend Todd Easterla said it was cheating to use them and Richard Ternullo thinks they're going to get me in trouble.

This interesting bird would have to be a storm-petrel. Perhaps the most difficult to point out or photograph and they seem to disappear in the blink of the eye sometimes.

We turned up a FORK-TAILED STORMY as we tried to relocate the interesting storm-petrel again and again until we ran out of time. We found one bird that looked like it might be the interesting storm-petrel but we had difficulty seeing the bird ventrally again. Sadly we turned back towards Monterey and found a couple of semi-friendly Humpback Whales.

Unlike last weekend when we had so many jaegers and skuas these are scarce today. We see only a handful of POMARINE JAEGERS and no albatross. RED-NECKED PHALAROPES are numerous with a few RED PHALAROPES scattered here and there.

For additional photos, see Jeff Poklen's photo gallery for this trip.

Roger Wolfe for Monterey Seabirds