Sunday November 14, 2004

We departed the wharf under outrageously sunny skies. The fall season in the Monterey Bay area is favored by locals for having some of the most splendid weather of the year and this day was a fine example. The coast guard jetty area was active with BRANDT'S and a PELAGIC CORMORANT. The jetty itself got the out of the area birders excited with a SURFBIRD and our first RHINOCEROS AUKLET.

Flocks of SURF SCOTERS plied the waters along Cannery Row along with some EARED, CLARK'S and WESTERN GREBES. Moving offshore we picked up a couple of COMMON MURRES. On the whole alcids would be in short supply today both in total numbers and in species seen.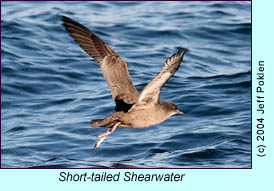 Off Pt. Pinos we found a baby HUMPBACK WHALE that our skipper Richard Ternullo said must have been recently weaned as it still showed a pink hue to the underside of the tail. Our first of five shearwater species seen on the day was a SHORT-TAILED followed soon thereafter by a SOOTY. Our spotters/leaders all remarked on the large number of BULLER'S SHEARWATERS with an estimate of 200 seen. PINK-FOOTED SHEARWATERS were the second most numerous. Just to round things out we had a few very cooperative FLESH-FOOTS too.

NORTHERN FULMAR numbers were way up from our last outing. Last but certainly not least of the tubenoses were 3 BLACK-FOOTED ALBATROSS up close and personal, much to the delight of the photographers on board.

We had a good showing of larids featuring an early BLACK-LEGGED KITTIWAKE. THAYER'S, HERRING, WESTERN, GLAUCOUS-WINGED and everything in between delighted the gull freaks on board. We also had HEERMANN'S and BONAPARTE'S GULLS.

RED PHALAROPES were sighted sporadically as were POMARINE JAEGERS and PACIFIC, COMMON, and RED-THROATED LOONS.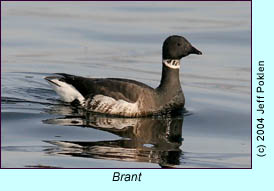 Heading back in we were visited by a spread-out pod of RISSO'S and NORTHERN RIGHT WHALE DOLPHINS off Pt. Pinos. We then headed inshore and along the beaches north of the harbor where we found a RED-NECKED GREBE, a few ELEGANT TERNS and a flyby WHITE-WINGED SCOTER along with a few SEA OTTERS.

Just before reaching the harbor we came upon a striking male HARLEQUIN DUCK mixed in with some scoters and we ended our day with a pair of Brant just off the end of the jetty.


Roger Wolfe for Monterey Seabirds