Sunday September 5, 2004

The day was as sunny and warm as it can get here on the Monterey Bay. It would have been perfect had not the northwest winds come up earlier in the week and built up a bit of a swell. The surfers have been happy this week.

We too were happy on this day and saw some interesting things. We had a nice sized group of 30 on board the Pt. Sur Clipper. For starters we had a PIGEON GUILLEMOT inside the breakwater and BRANDT'S CORMORANTS and BLACK TURNSTONES on the breakwater. Just outside it we had a PELAGIC CORMORANT and some RED-NECKED PHALAROPES. A little farther out we saw our first COMMON MURRES.

Not far off Pt. Pinos we came upon a mixed pod of dolphins that included RISSO'S, PACIFIC WHITE-SIDED and NORTHERN RIGHT WHALE. Our skipper Richard Ternullo, who is a fount of information when it comes to cetaceans, was telling me that hybridization between some of the smaller dolphins had been documented. As if on cue we looked out the window and saw one! The Pacific White-sided X Northern Right Whale Dolphin was a grayish color overall and had a dorsal fin reminiscent of a Blue Whale. I ran out and encouraged the photographers on board to try and document this. It is hard enough to get a decent shot of a group of dolphins let alone an individual!

SOOTY SHEARWATERS were soon followed by PINK-FOOTED SHEARWATERS and then Richard called out a FLESH-FOOTED SHEARWATER that circled around the boat a few times so everyone got to see. Nice when they're cooperative like that.

We found several HUMPBACK WHALES in one area with a good concentration of shearwaters around them.

Our main goal for the day was to find the storm-petrel flock that Richard had been seeing off and on since late August. It has been a couple of years since they've roosted in the bay for any length of time and we were all looking forward to seeing them.


Enroute to where we hoped to see them we had several BLACK-FOOTED ALBATROSS come in to check out the chum. A POMARINE JAEGER put in an all too brief appearance; we had nice looks at a number of migrant RED PHALAROPES and SABINE'S GULLS. A flyby tern had to be labeled "commic" as we had to brief a look to be able identify it as either Arctic or Common.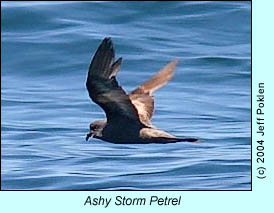 Into Santa Cruz county waters we went searching the area where Richard had least seen the storm-petrels earlier in the week. We started seeing ASHY STORM PETRELS. We laid a slick of fish oil to return to and continued our search for the flock. A short while later we got a call on the radio that the other seabird boat on the bay had found the flock near where we laid the slick.

Don Roberson and Richard estimated the flock contained approximately 1500 ASHY STORM-PETRELS, 15 BLACKS, 2 LEASTS and 1 WILSON'S that kept reappearing. Some of the Blacks and Ashies were quite accommodating, in flying by the boat. The others made it difficult.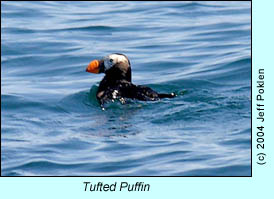 On our way back towards Pt. Pinos we came upon a single TUFTED PUFFIN which got everyone excited again. We also saw several RHINOCEROS AUKLETS.

At one point Richard spotted a small bushy blow and the fleeting dorsal of a few CUVIER'S BEAKED WHALES and that was all she wrote. The fount of information then told me that these whales had a recorded dive time of up to an hour and twenty minutes! As it says in the Audubon Guide to Marine Mammals of the World (illustrated by Pieter Folkens), "On the supposition that these whales respond to the approach of a vessel by diving, the best chance for detecting them comes from looking astern." So I headed for the stern to assume chumming duties. Never did see them.

Also seen:
PARASITIC JAEGER
HEERMANN'S GULL
WESTERN GULL
CALIFORNIA GULL
ELEGANT TERN
HARBOR SEAL
CALIFORNIA SEA LION
CALIFORNIA SEA OTTER


Roger Wolfe for Monterey Seabirds