Sunday November 9, 2003

The daunting weather forecast proved to be incorrect. I recently asked one of the skippers down at Fisherman's Wharf. "Danny, do you ever read the weather forecasts?" To which he replied, "If I paid any attention to the weather forecasts I'd never go to work!"

The conditions on the bay Sunday were good. We never saw any of the predicted rain, the winds were just enough to keep the tubenoses flying around our boat for most of the day, and the swell was moderate.

We started our day with the male HARLEQUIN DUCK in all his finery inside the harbor.

Once we got out into the bay it was tubenose city but conversely we saw almost no alcids at all. We had NORTHERN FULMARS flying around the boat almost continuously. Lots of BULLER'S, PINK-FOOTED and BLACK-VENTED SHEARWATERS but only a smattering of SOOTIES and a few dark-brown shearwater sp. that went unidentified to species. A single FLESH-FOOTED SHEARWATER was our bird of the day.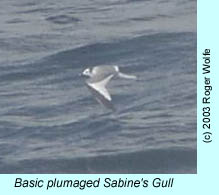 The most excitement was generated by an interesting bird that we wanted to get better looks at. We thought it a possible 1st winter Red-legged Kittiwake and our skipper Richard Ternullo summoned all the power the Point Sur Clipper had in her and charged after the bird. Spray was flying, cameras were grabbed and hugged to the body to keep dry, chum was flung off the stern frantically, lenses were wiped, then wiped again. But when we finally managed to pull alongside we could see the yellow-tipped black bill of a late, basic plumaged SABINE'S GULL. We were a bit disappointed yet exhilarated by the thrill of the chase.

In the midst of all the excitement two ASHY STORM-PETRELS went largely unnoticed.

RED PHALAROPES were abundant and POMARINE JAEGERS common. Gull enthusiasts were very happy back at the stern with BONAPARTE'S, GLAUCOUS-WINGED, WESTERN, HERRING, THAYER'S and HEERMANN'S GULLS (not to mention the various intergrades) coming in for the popcorn, squid and anchovy chum.

Alcids were in the single digits. CASSIN'S and RHINOCEROS AUKLETS and a few COMMON MURRES were it.

Marine Mammals seen were also in the single digits -- HUMPBACK WHALES and RISSO'S DOLPHINS. A SPERM WHALE had been seen a few times the previous week but we were unable to refind it.

Roger Wolfe for Monterey Seabirds