Sunday May 12, 2003

Our Mother's Day seabird trip was downsized. A small number of participants (14) resulted in us taking out the ol' Point Sur Clipper instead of the larger Sea Wolf II. Admittedly we've grown spoiled with the larger, more spacious boat. You'd think some of us would wax nostalgic in going out on the Clipper, which is the boat many of us pelagiphiles cut our teeth on but I did hear some moaning. It was preferable by far to not going out at all (although I think my mom would have preferred we canceled).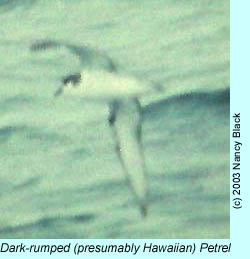 I had entertained some serious fantasy seabirds in that we'd had a few days of good onshore winds after a long period of having none at all. Our skipper Richard Ternullo's sighting of a Dark-rumped (presumably Hawaiian) Petrel the week before added fuel to the fire of my hopes of finding some outrageous pelagic vagrant but alas such was not the case. But hey, you got to keep at it to see the truly good pelagic birds, right? (See Don Roberson's website for more about the Dark-rumped Petrel, including a comparison of the Hawaiian Petrel and the Galapagos Petrel.) Note: subsequent review by Steve N.G. Howell identified this bird as a STEJNEGER'S PETREL. See page 209 of Petrels, Albatrosses and Storm-Petrels of North America: A Photographic Guide. This record was not accepted by the CBRC.

It has been really interesting seabirding on a monthly basis and witnessing the changes. I've always been big on patch birding and the Monterey sea canyon is one helluva patch to work.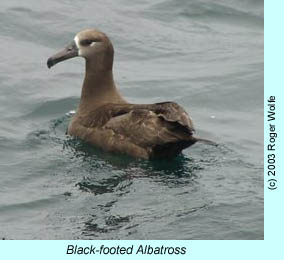 When Big Sur Ornithology Lab interns Robin Hunnewell and Jessica Griffiths showed up as volunteer chummers they said they were hoping to see an albatross and they weren't disappointed as we had 80 BLACK-FOOTED ALBATROSS for the day with as many as 15 at the stern at one time.

SOOTY SHEARWATERS numbers were way up from last month's trip with birds visible almost continuously during our trip. PINK-FOOTED SHEARWATERS were also numerous (80) with many showing signs of molt.

4 NORTHERN FULMARS and 5 RHINOCEROS AUKLETS were spring holdouts. Migrant gulls and terns were sparse with only a few BONAPARTE'S and a single SABINE'S GULL. I have this theory that if there is a Brit on board and a Sabine's Gull in the vicinity that they will find it. Such was the case this time.

We had several flocks of RED-NECKED PHALAROPES including a particularly large one at an area of convergent water but only a smattering of beautiful alternate plumaged RED PHALAROPES.

HUMPBACK WHALES have returned and they were seen feeding off of Ft. Ord. Our only other cetacean being widely scattered PACIFIC WHITE-SIDED DOLPHINS.

It was a good group on board. Special thanks to our regulars for their support and our leaders Don Roberson and Dan Singer.


Roger Wolfe for Monterey Seabirds