During the fall when the seabird numbers and variety are at their peak and vagrants become a distinct possibility we will be offering two consecutive seabirding trips on Sept. 21 and 22 (Sun. and Mon.). This two-day offering has the out of the area birder in mind and gives those with no prior visits to Monterey Bay the opportunity to see most of the seabirds that are present in the fall months. You can't see all the birds in one outing but you should see most of the possibles in these two. Cost for the Albacore Grounds trip on Sunday is $110 per person and the Monterey Bay trip on Monday is $70 per person.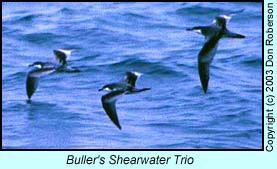 The 12-hour Albacore Grounds trip is the most popular of the trips offered seabirders out of Monterey. This is the trip for Craveri's and Xantus' (scrippsi) Murrelet, Long-tailed Jaeger and South Polar Skua and offshore possibles like Red-billed Tropicbird. This trip is expected to sell out. September is the month for Buller's and Flesh-footed Shearwater and rarities like Streaked and Wedge-tailed Shearwaters too. Boarding is at 5 a.m. for a 5:30 departure.

On the September 22 Monterey Bay trip we should see both Black and Ashy and perhaps Wilson's, Least and Fork-tailed Storm-Petrels, Parasitic and Pomarine Jaegers, Sabine's Gull, Arctic Tern, Pink-footed Shearwater, Black-footed Albatross, Tufted Puffin and Cassin's Auklet.

Check out Don Roberson's Monterey Bay web page for a complete overview of both the bay and the birds and marine mammals that can be seen on a boat trip. Don will be aboard as a leader on the Albacore Grounds trip. He is also the author of Monterey Birds. Stephen F. Bailey and Dan Singer will also be leading.